It can be tough to get all the vegetables we need daily, especially if we're not big fans of them.
But that doesn't mean we should give up on getting the nutrients our bodies need – there are plenty of ways to sneak more veggies into our diets without even realizing it!
This blog post will discuss six great ways to do just that. So whether you're looking for some quick and easy meal ideas or just want to add a few more veggies here and there, read on for some delicious tips.
You can always meal prep and plan your week ahead by storing vegetarian meals in tupperware plastic containers.
Sneak Them Into Your Breakfast Smoothie
One great way to get more veggies into your diet is by adding them to your breakfast smoothie.
This is a quick and easy way to get in some extra nutrients first thing in the morning, and you can add just about any vegetables you like!
Just throw them into a blender with some fruit, yogurt, and milk (or water), and you're good to go.
You can even sneak in some leafy greens like spinach or kale – they'll be virtually undetectable once everything is blended up.
Another way to enjoy smoothies is to use raw chia seeds. To know more about the health benefits of consuming chia seeds smoothies, check Blendtopia.
Add Them to Your Salad at Lunchtime
You can also add veggies to your lunchtime salad. This is a great way to get in some extra nutrients and fiber, and it's a perfect light meal for summertime.
Just chop up your favorite vegetables and add them to your greens – we love tomatoes, cucumbers, bell peppers, and carrots.
You can also add some fruit for sweetness, like mandarin oranges or sliced strawberries. And don't forget the dressing – a little bit of balsamic vinegar or olive oil will do the trick.
Cook Up a Stir-fry for Dinner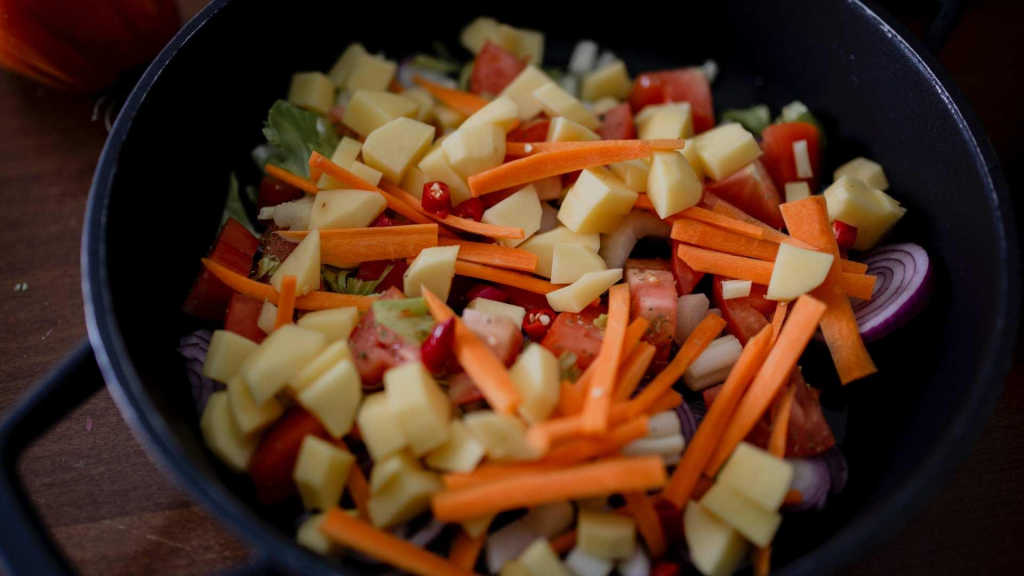 If you're looking for a heartier meal, why not try a stir-fry? Stir-fries are a great way to use up any vegetables on hand, making a delicious and easy weeknight dinner.
Just sauté your vegetables in a bit of oil until they're tender, and then add in whatever protein you like – chicken, shrimp, or tofu would be great.
Don't forget the rice or noodles – they'll help to soak up all the delicious flavors.
To keep stir-fry healthy, you can avoid adding too much oil by using an air fryer for cooking the meat and vegetables.
Eat Them as Snacks Throughout the Day
You can also eat vegetables as snacks throughout the day. Cut up some carrots, celery, or cucumbers and enjoy them with some hummus or peanut butter.
Or try roasted Brussels sprouts or roasted sweet potatoes – they make a great snack on their own or dipped in plant-based dips and dressings.
This is a great way to ensure you're getting enough nutrients, and it's a perfect way to tide yourself over until your next meal.
Eating raw vegetables is a great way to get the most nutrients, but if you're not a fan of that, then roasting them can help to bring out their natural sweetness.
Moreover, adding dips or sauces can make them more palatable and enjoyable to eat.
Use Them in Recipes You Already Love – Like Pizza, Pasta, or Brownies!
One of the best ways to sneak more veggies into your diet is by using them in recipes you already love.
This way, you'll get all the flavors and textures you're craving, with a few extra nutrients thrown in.
You can add vegetables to just about any recipe – try adding some chopped spinach or mushrooms to your next pizza or throwing some zucchini or squash into your pasta sauce.
Or how about adding shredded carrots or beets to your brownie mix? The possibilities are endless!
Drink Vegetable Juice or Smoothies Regularly
Another great way to consume more vegetables is by drinking them in the form of juice or smoothies.
This is a quick and easy way to get your daily dose of veggies, and it's also a great way to use up any leftover produce you have.
Just throw whatever vegetables you like into a juicer or blender, add some water or milk, and blend away.
You can even add in some fruit for sweetness – you may love adding apples or bananas to your veggie juices.
Here are some combinations you can try:
Carrot, apple, and ginger
Beet, berry, and mint
Spinach, kale, and cucumber
Tomato, celery, and parsley
Try a Variety of Vegetables in New Dishes – You Might Be Surprised at How Much You Like Them
Finally, don't be afraid to try new vegetables in your dishes. You might be surprised at how much you like them!
If you've never cooked with turnips or kohlrabi before, why not try them? Or, if you're not a fan of cooked spinach, try it raw in a salad. Some salad options you can try are:
Spinach, strawberry, and feta salad
Kale, apple, and pecan salad
Arugula, pear, and blue cheese salad
You can also add roasted vegetables to your salads for a heartier option. Some of our favorites are roasted Brussels sprouts, sweet potatoes, or beets.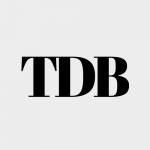 The Daily Buzz combines the pursuit of interesting and intriguing facts with the innate human desire to rank and list things. From stereotypical cat pictures to crazy facts about the universe, every thing is designed to help you kill time in the most efficient manner, all while giving you something to either laugh at or think about!