Bloxburg house layout ideas – It is not to say that everyone plays games for their time pass, but what if we say you can design yourself a house as luxurious as it can be with all the facilities on a platform called Bloxburg. If you want to know how? You have landed on the best page.
Well, we are here to introduce you to the famous game for the house build project. Yes, there is a game that can help design your dream house in just a few steps. Also, you can plan in this game, and it will surely excite you. When you play this game, the house is an important place to live in.
Aesthetic Bloxburg House Layout Ideas
You will be able to create lots of layouts with fresh ideas every time. The game lets you design the house with every required feature. It will help design a kitchen, bathroom, garden, and anything you want to add to your dream project.
But first of all, you must choose what kind of house you want to build in the Bloxburg house ideas. If you wish to have a budgeted house, a mansion, a two-storey house, or whatever, this game allows the players to build it all.
The game has got some very compelling features that make the players want to play more and more and work on many dream projects. Modern Bloxburg houses are now trending as more and more players are joining this game. The house ideas for Bloxburg are now endless.
So what kind of houses will you get to create while playing the game? Let's see. We have come with few unique ideas that will surely make your next build look great.
Budgeted Bloxburg House Layout
You can design a budgeted house without a game pass and get some attractive features to create one. The 10K build no game pass option allows players to design the houses within the budgets. It gives them access to the building process and building material in the game. Players can build stylish-looking kitchens, living rooms, bathrooms, and bedrooms.
Luxurious Hillside Mansion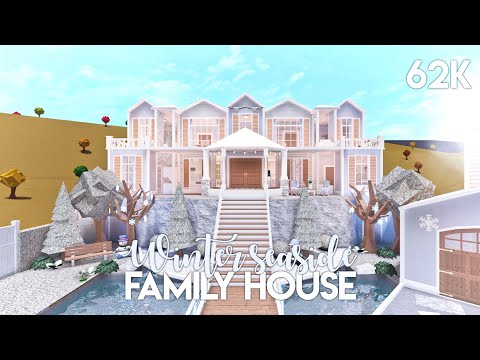 If you can increase your budget to about 188k, you will get to have a hillside mansion. You can have luxurious things included in this like a pond, waterfall, fireplace, and an open area. The craftsmanship of this level gets your command and makes a beautiful mansion you wanted forever.
Large Aesthetic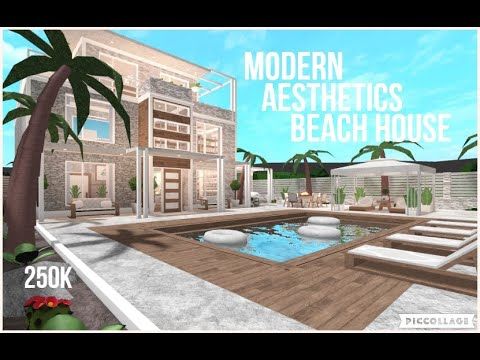 If you want an elegant-looking large house which compliments your style, the Roblox Bloxburg colonial house is made for you. The aesthetic bloxburg house is a complete no-game pass build.
It gives a blissful structural layout to your idea and has the feature of adding a garden, pool, living room, bedroom, garage, kid's room, and a kitchen. The creativity of your mind will have a fantastic aesthetic layout through this.
Modern Two-storey house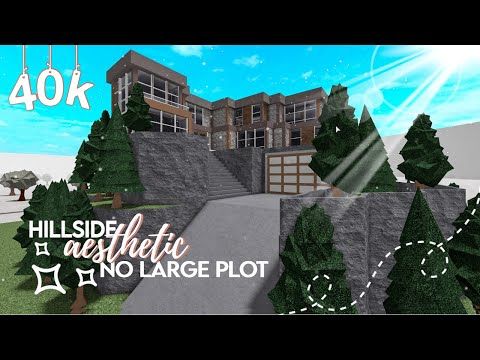 Modern people need a stylish place to live in. and the modern two-storey house is the perfect place. The players get the chance to frame some fantastic designs that include four different types of bedrooms, an interior balcony designed in such a way that you will be able to see the first floor from it.
You will get the features like a living room, dining room, kitchen, garage, laundry, and bathtub, but you will have to invest a bit more for it.
The Blush Mansion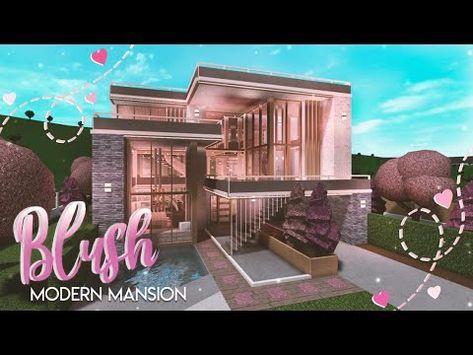 If you can invest an amount of 189k in an aesthetic style of living, it is the best choice. This mansion is the best choice for those who have a friendly practice of making perfect detailed interiors. Also, players who love the colour pink will fall in love with this as it has a distinct feel of pink, but you can pick the colour of your preference.
There are also features for creating perfect curves and sharp lines. From four bedrooms to three bathrooms, the kitchen, office, laundry and dining area, and two storage ideas.
Bloxburg House Layout Idea – Mini Mansion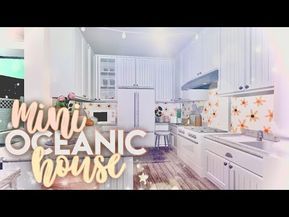 These are budget-friendly and require an investment of 30k, which has two bedrooms, a dedicated garage and a yard, a separate study room, a wooden finished dining table, and a medium-sized dining table. It is best suited for small families as the features are up to the needs.
Lapis Lakehouse
Lapis lakehouse is a house next to a water body, a place near a waterbody surely helps the mind to relax and be stressfree. It is the best way to be away from the city's sound and hustle. This mansion is based on a southern reality theme, and the interiors of the house are covered with white colour with big windows for the passing of the breeze.
Soft Autumn Bloxburg House Layout
If you are a person who loves the autumn season, then this house will be the best. It has got two garages, a living space, a kitchen, and an open backyard is the best family picnic area with landscaped plants that make it look spacious but quite costly.
Botanical Family Home
If you are a nature lover, you will know how beautiful a house looks with flowers and plants. Thus, this is for those players who want to add colours to their house. The house features four bedrooms, a living and dining area, a laundry room, an office, and a garden for a picnic.
Tiny House On Wheels
The game provides some cute tiny houses, and this one is one of them. It is built to be mobile for those who do not want to be at the same place for a long time. It is spacious, has a lovely rear deck, and colossal storage gives it an authentic feel.
Conclusion
Bloxburg has some excellent features that are affordable for types of players for making their next big dream project. Those who love house planning games can surely try the bloxburg house layout game. In the above article, we have brought some ideas that can help you get through all the confusion while making you play an exciting game.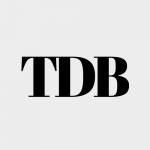 The Daily Buzz combines the pursuit of interesting and intriguing facts with the innate human desire to rank and list things. From stereotypical cat pictures to crazy facts about the universe, every thing is designed to help you kill time in the most efficient manner, all while giving you something to either laugh at or think about!