If there's one thing the president is definitely not an authority on, it's fitness.
In Donald Trump's 2016 biography "Trump Revealed," he said that he gave up on athletics after college because he "believed the human body was like a battery, with a finite amount of energy, which exercise only depleted."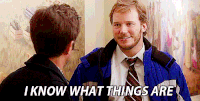 via Giphy
How Trump came up with the analogies puzzled experts. In Trump's view, being sedentary charges our internal batteries to give our life longevity.
A passage from the biography mentions Trump criticizing his top casino executive, in training for the Ironman triathlon, that he will "die young because of this."
Michael Jonesco, a sports medicine and orthopedics specialist at Ohio State University's Wexner Medical Center, sheds some light on the subject.
He argues that the "better" analogy is like "the fire that you continue to fuel with more coal or wood. You need to continue to add fuel, or your flame will die. This is true whether you exercise or not. . . . Simply by existing, we are burning energy."