What Can I Use Instead of a Flower Bed? Instead of a traditional flower bed, there are various alternatives you can consider for adding plants and enhancing your outdoor space.
One option is container gardening, where you can use pots, planters, or hanging baskets to showcase flowers and plants.
This allows for flexibility in terms of placement and arrangement. Vertical gardens, such as living walls or trellises, provide a vertical growing space and can be an excellent alternative for limited ground space.
Raised garden beds are another option, which offers better control over soil quality and drainage.
Additionally, you can incorporate plants into existing landscaping features, such as rock gardens or borders.
These alternatives offer versatility and can be customized to suit your preferences and available space.
A flower bed is a traditional and popular feature in many gardens, offering a vibrant display of colorful blooms and adding beauty to outdoor spaces.
However, there may be various reasons why you seek alternatives to a flower bed. You may have limited space, poor soil quality, or prefer a different gardening style.
Fortunately, several creative and practical options are available to fulfill your desire for a visually appealing and functional garden.
Container Gardening – What Can I Use Instead of a Flower Bed?
pinterest.com
Container gardening is a versatile and flexible alternative to traditional flower beds.
It involves planting flowers, herbs, vegetables, or even small trees in containers such as pots, planters, hanging baskets, or troughs.
This method is particularly suitable for those with limited space, such as apartment dwellers or individuals with small balconies or patios.
1. The Advantages of Container Gardening Include
Flexibility: Containers can be placed virtually anywhere, allowing you to create a garden on a balcony, patio, or even indoors near a sunny window. This flexibility lets you adapt your garden to suit your available space and lifestyle.
Mobility: Containers are portable, making it easy to rearrange your garden or move plants around to optimize sunlight exposure, protect them from adverse weather conditions, or refresh the look of your outdoor space.
Improved soil control: Container gardening provides better control over soil quality, especially if your existing soil is poor or unsuitable for plant growth. You can choose specific potting mixes or create your soil blend, ensuring optimal plant conditions.
Pest and weed management: Container gardening can help minimize pest and weed issues, as the elevated nature of containers can create a barrier against ground-dwelling pests and weed seeds.
Vertical Gardening – What Can I Use Instead of a Flower Bed?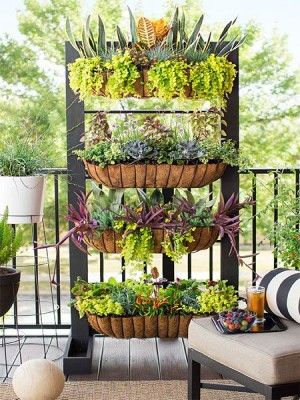 pinterest.com
Vertical gardening presents an innovative and space-saving alternative to traditional flower beds. This method involves vertically growing plants, using walls, fences, trellises, or specially designed structures to maximize growing space. It offers numerous benefits and allows you to transform bare vertical surfaces into lush, green displays.
1. Advantages of Vertical Gardening
Space efficiency: Vertical gardening maximizes your available space by utilizing vertical surfaces that would otherwise be unused. It's an excellent option for small gardens, urban environments, or areas with limited ground space.
Aesthetically pleasing: Vertical gardens create visually striking displays, adding a vertical element to your outdoor space. They can be designed to suit various styles, from lush and tropical to modern and minimalist, enhancing your garden's overall beauty and appeal.
Improved air circulation: Growing plants vertically increases air circulation around the foliage, reducing the risk of diseases and promoting healthier plants.
Easy access and maintenance: Vertical gardens are often at eye level or within easy reach, making it convenient to tend to the plants, water them, and perform regular maintenance tasks such as pruning or harvesting.
Raised Bed Gardening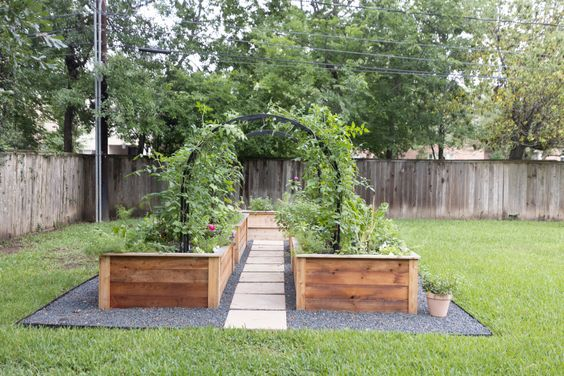 pinterest.com
Raised bed gardening is a practical and efficient alternative to traditional flower beds. It involves creating elevated planting areas typically framed with wood, stone, or other materials. These raised beds offer numerous advantages and provide optimal growing conditions for plants.
1. Advantages of Raised Bed Gardening – What Can I Use Instead of a Flower Bed?
Improved soil quality: Raised beds give you better control over soil composition. You can fill them with a custom soil blend, compost, and amendments, ensuring optimal nutrient levels and drainage. This is particularly beneficial if your soil needs to be better or compacted.
Enhanced drainage: The elevated nature of raised beds promotes better drainage, preventing waterlogging and root rot. This is especially advantageous in areas with heavy clay soil or regions prone to excessive rainfall.
Weed and pest control: Raised beds provide a barrier between your plants and the surrounding soil, making it easier to manage weeds. Additionally, the controlled environment of raised beds can help deter pests and minimize damage to your plants.
Extended growing season: Raised beds warm up more quickly in the spring, allowing for earlier planting and extended growing seasons. The elevated position also helps with air circulation, reducing the risk of frost damage.
Rock or Gravel Garden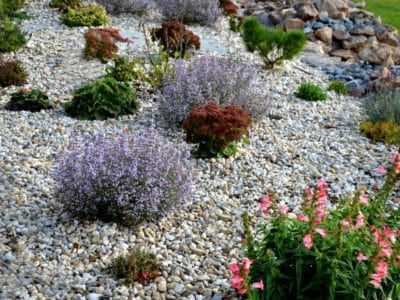 Pinterest.com
A rock or gravel garden is a unique and low-maintenance alternative to a traditional flower bed. This type of garden utilizes rocks, stones, and gravel as the main design elements, creating a visually appealing and drought-tolerant landscape.
1. Advantages of Rock or Gravel Gardens
Low maintenance: Rock and gravel gardens require minimal upkeep once established. They generally have lower water requirements than traditional flower beds, making them an excellent choice for areas with limited water resources or for gardeners seeking a low-maintenance option.
Drought tolerance: The well-draining nature of rock and gravel gardens allows them to tolerate dry conditions more effectively. The rocks and gravel act as mulch, reducing evaporation and protecting the soil from extreme temperature fluctuations.
Erosion control: Rock gardens can help prevent soil erosion on slopes or areas prone to runoff. The rocks and gravel help anchor the soil in place while allowing water to flow freely.
Herb or Vegetable Garden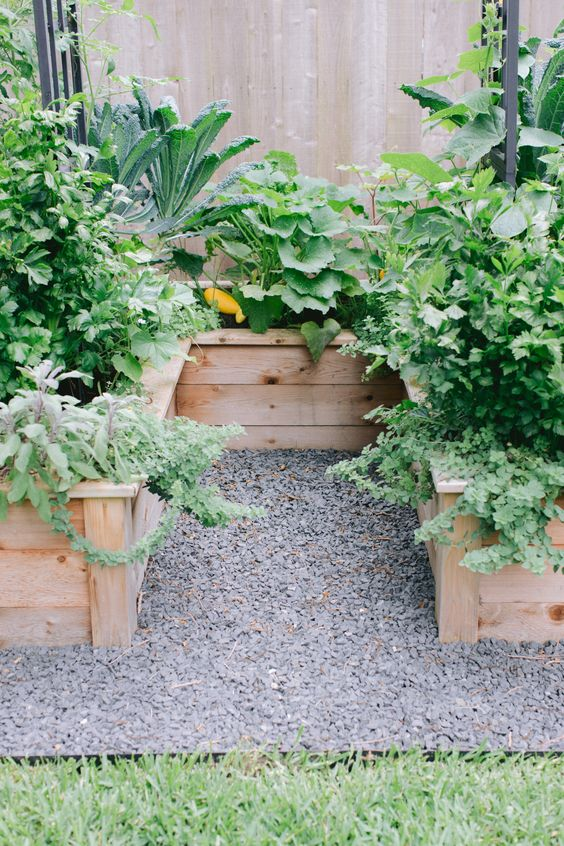 pinterest.com
Transitioning from a flower bed to an herb or vegetable garden can be a rewarding alternative that offers beauty and functionality. Herb and vegetable gardens provide an opportunity to grow fresh produce for culinary use while adding a vibrant and productive element to your outdoor space.
1. Advantages of Herb or Vegetable Garden
Edible harvests: Growing herbs and vegetables allows you to enjoy the satisfaction of harvesting your fresh produce. You can enhance your culinary creations with flavorsome herbs or incorporate homegrown vegetables into your meals, promoting a healthier and more sustainable lifestyle.
Variety and customization: Herb and vegetable gardens offer a wide range of plant choices, allowing you to grow your favorite culinary herbs, vegetables, or even unique and exotic varieties. You can tailor the garden to your specific tastes and preferences.
Educational and engaging: Herb and vegetable gardens can be a valuable educational tool, particularly for children, teaching them about plant life cycles, nutrition, and the importance of sustainable food practices. It can also be a source of engagement and enjoyment as you learn about different plant varieties and gardening techniques.
Conclusion
What Can I Use Instead of a Flower Bed? When considering alternatives to a traditional flower bed, numerous options are available that cater to different preferences, space constraints, and environmental considerations.
Container gardening provides versatility and mobility, allowing you to create beautiful displays on patios, balconies, or indoors.
Vertical gardening offers a space-saving solution by utilizing vertical surfaces and structures, transforming walls and fences into lush green spaces.
Raised bed gardening provides control over soil quality, improved drainage, and easy access for maintenance.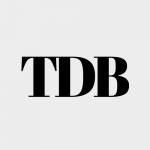 The Daily Buzz combines the pursuit of interesting and intriguing facts with the innate human desire to rank and list things. From stereotypical cat pictures to crazy facts about the universe, every thing is designed to help you kill time in the most efficient manner, all while giving you something to either laugh at or think about!