What Can I Plant in a Circle Flower Bed? There are numerous options for plants that can be planted in a circular flower bed.
You can choose a combination of flowers, shrubs, and other ornamental plants to create an appealing and vibrant display.
Consider selecting a mix of different heights, colors, and textures to add visual interest.
Some popular choices for a circular flower bed include colorful annuals like petunias, marigolds, and zinnias, as well as perennial flowers such as roses, daylilies, and coneflowers.
You can also incorporate evergreen shrubs or ornamental grasses for year-round structure and foliage.
Additionally, consider adding trailing plants like ivy or sweet potato vine to cascade over the edges of the flower bed and add a touch of elegance.
Ultimately, the choice of plants will depend on your personal preferences, the growing conditions of the site, and any specific design themes you wish to incorporate.
A circle flower bed is a unique and visually appealing way to add beauty and charm to your garden or landscape.
Unlike traditional rectangular or square beds, a circle flower bed offers a distinct shape that can become a focal point in your outdoor space.
Whether you have a small or large area to work with, a circle flower bed allows for creative planting arrangements. It offers endless possibilities for showcasing a wide variety of plants.
Considerations for a Circle Flower Bed – What Can I Plant in a Circle Flower Bed?
1. Size and Dimensions of the Circle Flower Bed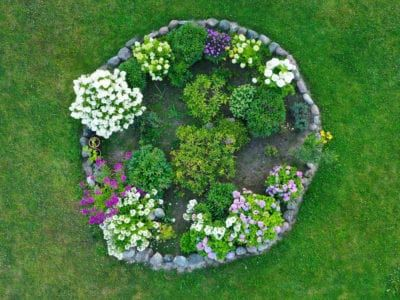 pinterest.com
Determine the diameter or radius of the circle flower bed.
Consider the space in your garden or landscape to accommodate the bed's size.
Consider any surrounding features or structures that may impact the bed's dimensions.
2. Sunlight Exposure and Shade Patterns
Observe the sunlight patterns where the circle flower bed will be placed.
Note the amount of direct, partial, or complete sunlight the bed will receive throughout the day.
Choose plants that are suited to the specific light conditions of your circle flower bed.
3. Soil Type and Condition
pinterest.com
Assess the soil type in the designated area, such as sandy, loamy, or soil.
Determine the pH level of the soil to understand its acidity or alkalinity.
Consider amending the soil with organic matter or fertilizers to improve its quality.
4. Climate and Weather Conditions in the Area
Research your region's hardiness zone to understand the average temperatures and frost dates.
Select plants well-suited to the local climate and can withstand temperature fluctuations, wind, or other weather conditions.
Flowers for Circle Flower Beds – What Can I Plant in a Circle Flower Bed?
Flowers are a fantastic choice for circle flower beds as they offer vibrant colours, fast growth, and the flexibility to change your garden's look each year.
1. Colourful Options for Seasonal Displays
pinterest.com
Marigolds: With their bright yellow, orange, and red blooms, marigolds add a cheerful touch to any circle flower bed. They are easy to grow, low-maintenance, and attract beneficial insects.
Petunias: Available in various colours, petunias are versatile and bring abundant blooms to your circle flower bed. They work well in both sunny and partially shaded areas.
Pansies: Known for their charming "faces," they come in various shades and can tolerate cool temperatures, making them an excellent choice for early spring or fall planting.
Perennial Flowers for Circle Flower Beds
Perennial flowers are an excellent addition to circle flower beds as they come back year after year, providing a reliable and enduring presence in your garden.
1. Long-lasting and Reliable Options
pinterest.com
Daylilies: Known for their stunning blooms and variety of colours, daylilies are a popular choice for circle flower beds. They thrive in various light conditions and can tolerate different soil types.
Coneflowers: With their distinct cone-shaped centres and vibrant petals, coneflowers add a touch of charm to any garden. They are drought-tolerant and attract pollinators, making them a valuable addition.
Black-eyed Susans: These cheerful flowers feature bright yellow petals and dark centres, creating a striking visual contrast. Black-eyed Susans are easy to grow and can tolerate different soil conditions.
2. Ornamental Grasses for Texture and Movement
Feather Reed Grass: This tall, elegant grass variety offers vertical interest and soft texture. It provides a beautiful backdrop for other plants in your circle flower bed.
Fountain Grass: With its graceful arching growth habit and feathery plumes, fountain grass adds a touch of elegance to the garden. It works well as a border or focal point.
Blue Fescue: This compact and low-growing grass offers delicate blue-green foliage, creating a striking contrast against other flowers. It is drought-tolerant and requires minimal maintenance.
Maintenance Tips for Circle Flower Beds
1. Regular Watering
Water your circle flower bed consistently, providing enough moisture to keep the plants hydrated but avoiding overwatering.
Monitor the soil moisture levels and adjust your watering schedule based on the plants' specific needs in your circle flower bed.
2. Mulching and Weed Control – What Can I Plant in a Circle Flower Bed?
Apply a layer of organic mulch, such as wood chips or straw, around the plants in your circle flower bed. Mulch helps retain moisture, regulate soil temperature, and suppress weed growth.
Regularly inspect your circle flower bed for weeds and promptly remove them to prevent competition for nutrients and space.
3. Pruning and Deadheading
Prune and trim your plants to maintain their shape, remove dead or damaged foliage, and encourage healthy growth.
Deadhead spent flowers regularly to promote continuous blooming and prevent the plants from redirecting energy into seed production.
Conclusion
What Can I Plant in a Circle Flower Bed? Creating and maintaining a circle flower bed is a delightful way to enhance your garden or landscape.
By carefully considering the size, sunlight exposure, soil type, and climate conditions, you can select plants that will thrive in your circular planting space.
Annual flowers offer vibrant colours and seasonal variety, while perennial flowers provide long-lasting beauty year after year.
Herbs and vegetables bring functionality and fresh produce to your circle flower bed while climbing plants add vertical interest and charm.
Ground covers fill in empty spaces and provide weed suppression, completing the overall look of your circular garden.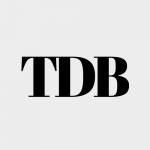 The Daily Buzz combines the pursuit of interesting and intriguing facts with the innate human desire to rank and list things. From stereotypical cat pictures to crazy facts about the universe, every thing is designed to help you kill time in the most efficient manner, all while giving you something to either laugh at or think about!