Smaller the kitchen, the Bigger the creativity
If we look around, we see that small apartments and houses are elegant, but they seem to have incomplete kitchens.
Surprisingly, many small kitchen design ideas maximize the storage capacity of the kitchen and positively affect productivity.
By thinking creatively about using most of your small kitchen space, you can make even the smallest kitchen space where you can enjoy cooking and hanging out.
You should never allow a small kitchen space, stopping you from designing it because some typical, low-budget creative ideas can transform your small kitchen space into an innovative and attractive place.
Shared below are the top 15 Creative ideas to transform your entire kitchen space into a bright, elegant, and productive one.
Fitted Kitchen Designers commonly use these techniques to help people utilize their small kitchen spaces more efficiently, but today you will learn about them yourself.
1. Contrasting the Color Scheme
While using multiple colors in a small space, either its kitchen or a room, the room looks packed and occupied.
On the other hand, using a simple two-color theme, one being brighter and the other darker, could give a more spacious and elegant look.
For a small kitchen space, use more brilliant shades on the walls and ceiling with dark shade equipment and shelves. It will make an attractive contrast theme for the kitchen.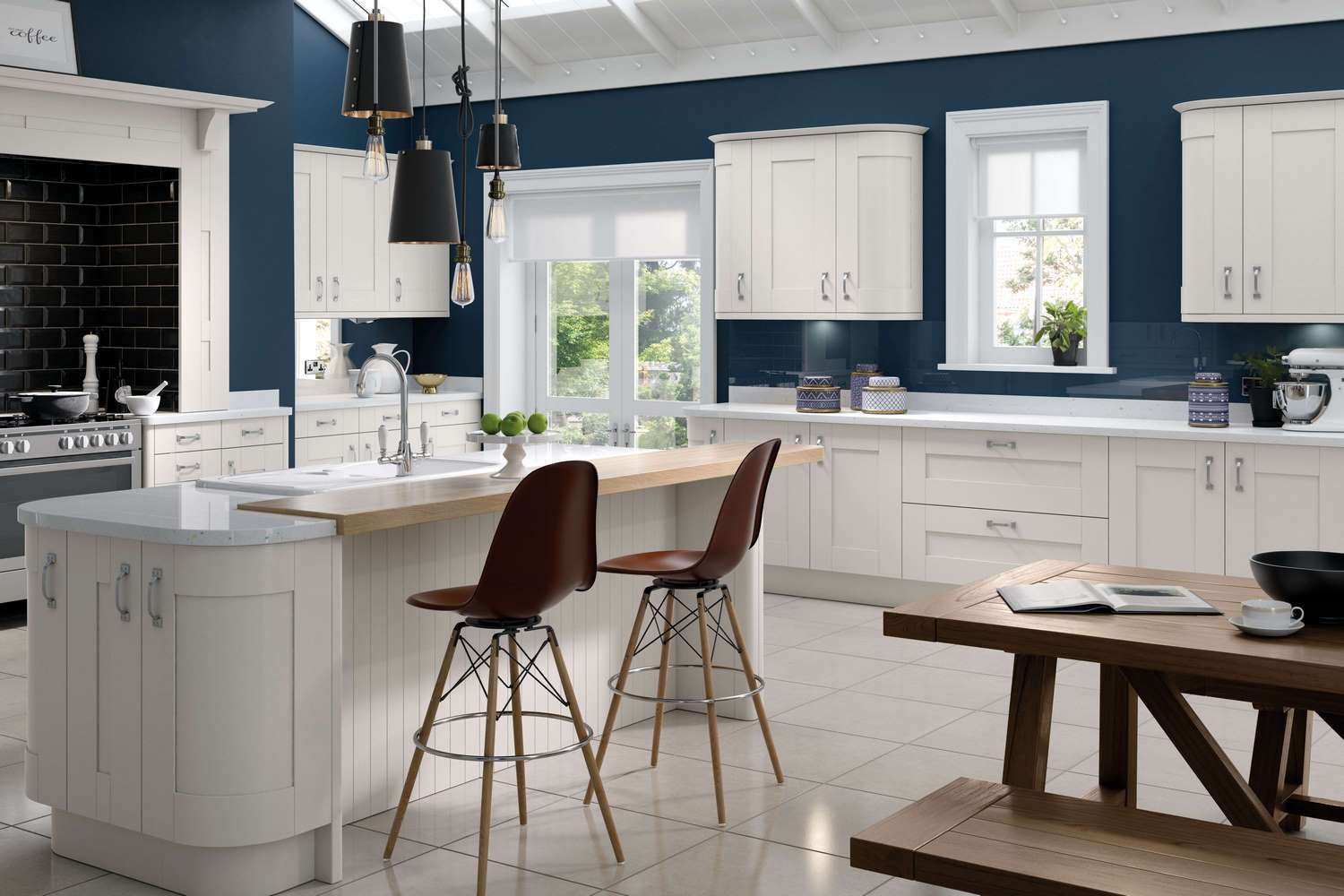 2. Hang a Metal Rack
Making too many cupboards can cause storage issues although they are for storage, it occupies a lot of space, especially in new fitted kitchens.
Attach a metal rack or stainless-steel rack instead of a backsplash in your small kitchen that can be used for hanging plenty of crockery stuff like pots, pans, and pitchers. A frame can also keep things organized in style.
3. Use Storage Efficiently
Some sort of items in the kitchen can be seasonal and are not being used frequently. Store those items on the Kitchen Island instead of cabinets and shelves.
You can choose a rolling island or an island with slim legs to adjust to a smaller space and be moved in times of need.
It will make your upper cabinets free some space and put them in daily or frequent use items.
4. Add Shelves to Blank Walls
A smaller kitchen space makes it necessary to use the blank walls for some storing and hanging functionalities.
You can add multiple open shelves on a blank wall in the kitchen and make them fill with some dishes and glassware, including some most frequently used items.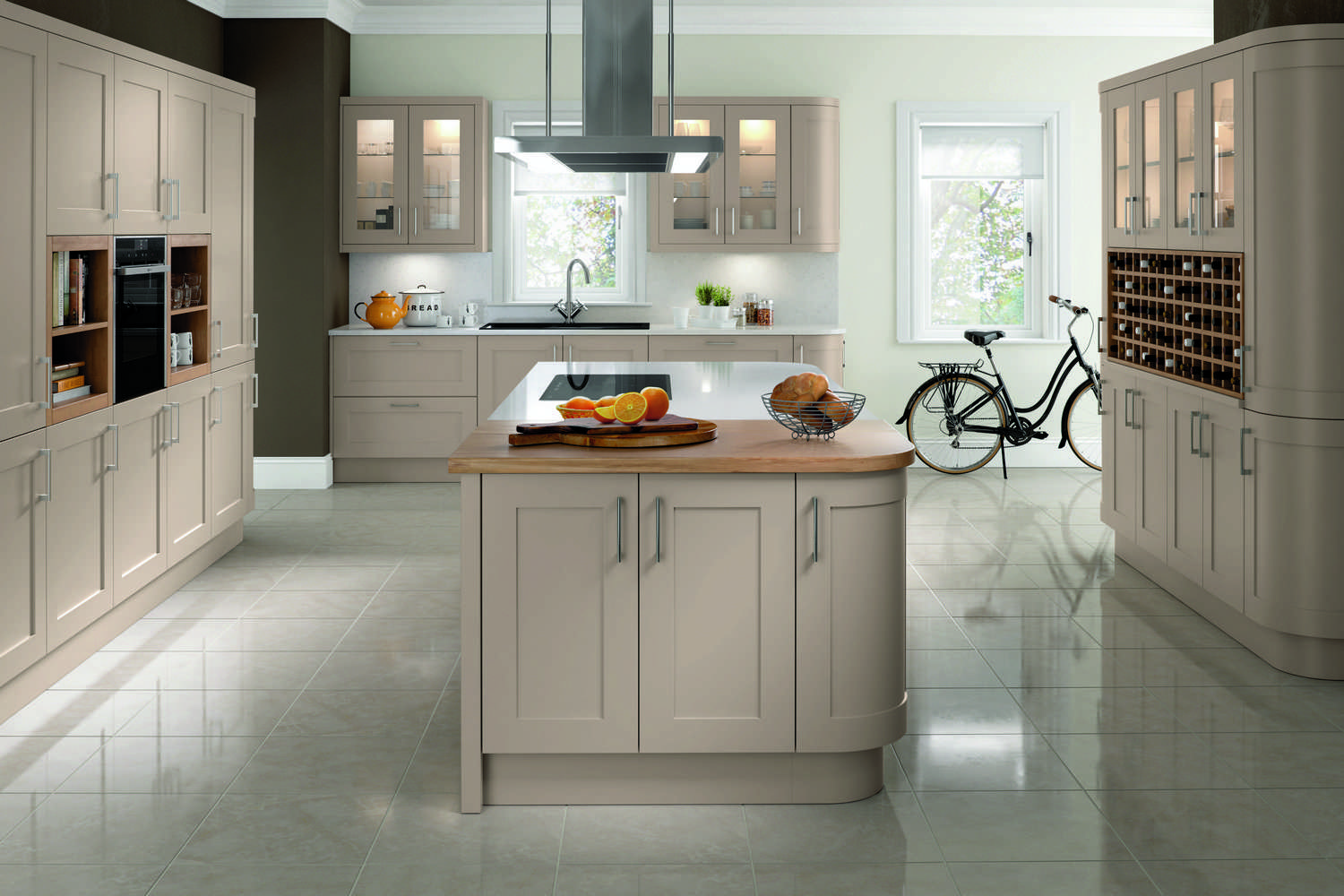 5. Make a Hidden Prep Station
A prep station in the kitchen is a place that is used for quick preparations to assist the cooking.
If you encounter a small space on shelves, you can get yourself a small butcher blockboard under a ledge.
It will work as a drawer and under it put a removable garbage bin. Make a hole on the board's surface so that you can throw the garbage into the container.
6. Hang a Mirror
If you study, you will learn that a mirror in a room causes it to look bigger. That happens due to optical illusions caused by the reflection of light across the room.
So if you want to make your kitchen look more prominent and spacious, you can hang a mirror on any wall, and everyone will perceive that the kitchen is more oversized.
7. Efficient Use of Vertical Space
You often face smaller storage space in a small kitchen, but you can resolve this issue by efficiently using the vertical space once the horizontal space ends.
You can hang most often used pots and pans above the kitchen island or oven area and store less frequent ones in the cabinets.
By adding hooks to the side of these gray kitchen cabinets, you can take frequently-used kitchen utensils and free up another pull-out cabinet for other tools or appliances you don't use as often.
8. Pull-out Pantry Drawer
While designing a small kitchen, it is essential to include a pantry in it, but the small space of the kitchen doesn't allow the installation of a full-size pantry.
You can use a pull-out pantry's creative idea instead of the full-size one because it saves extra space and can store your stuff like spices, nuts, oils, and others easily.
9. Minimalistic Design
Sometimes our lives are affected by the way we portray things. The same is the case with a small kitchen. If you use open clutter, your kitchen will look tidy and more petite.
On the other hand, hiding clutter, gray tiles, and open shelves will make your new designer kitchen look more spacious and elegant.
10. Multiple-use of a Kitchen Island
If you face a space shortage for food preparation and other stuff, you can still get a lot of space by thinking more creatively and strategically.
Making efficient use of your Kitchen Island will solve this problem. A Kitchen island can help in multiple ways.
It can be used as a food preparation space, a breakfast corner with open shelves on its sides for better functionalities.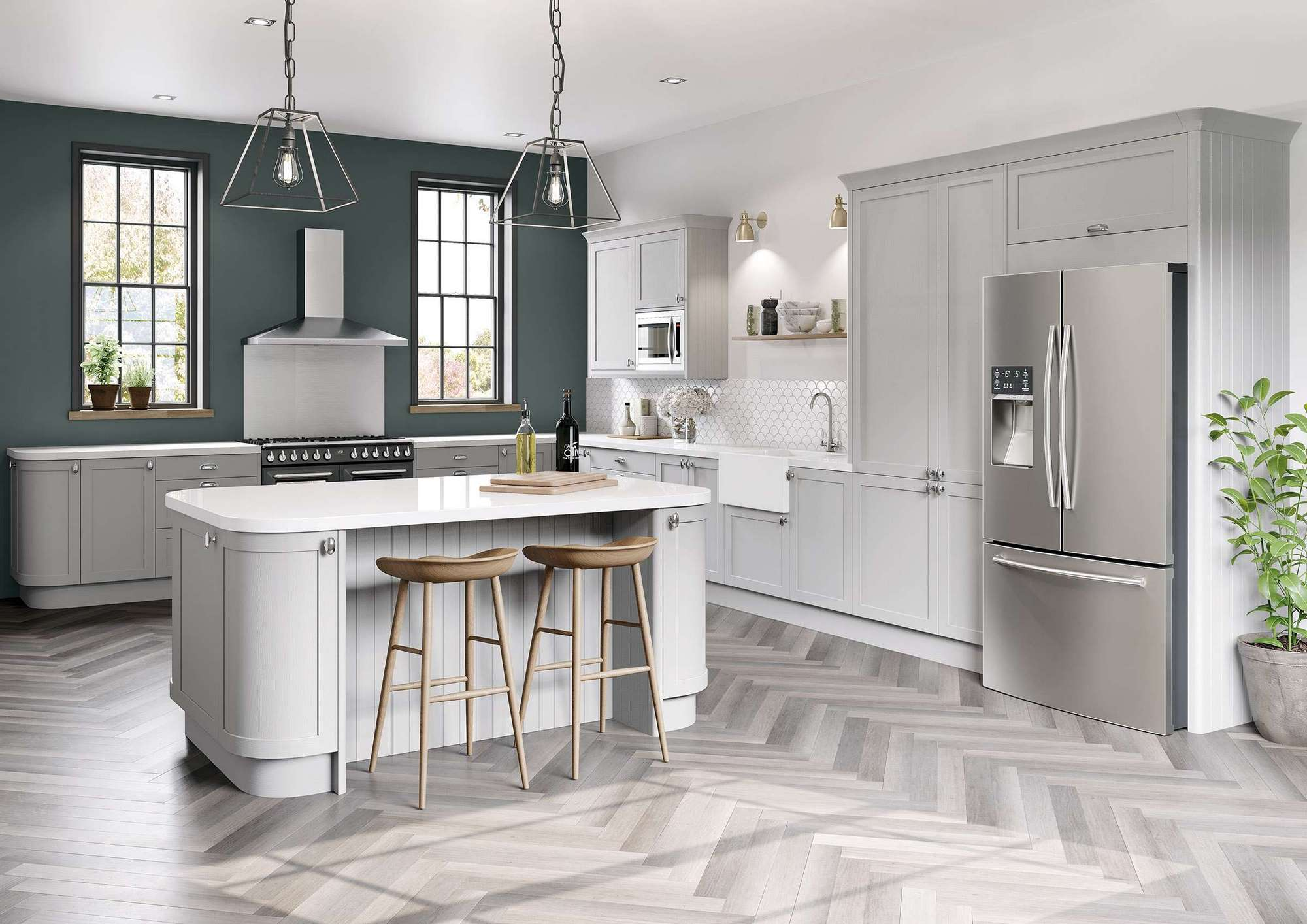 11. Add a Breakfast Bar
If you are looking for a breakfast area in your small kitchen, you can get yourself one in an efficient way. Look for counter edges or kitchen pass-through.
Make use of these places and build a folding or movable breakfast and dining area.
Use portable benches or chairs while eating and close them while you are not eating. It will save plenty of space in your tiny kitchen place.
12. Make Use of Your Ceiling.
Sometimes, ceilings can play a productive role in maximizing the storage capacity of small kitchens. You can hang pots and pans from the top via some steel hooks or wires in a stylish way.
You can hang your fruit baskets with the ceilings as well. It will help your cabinets to have some space available.
13. Bench Storage
While adding seats for the dine-in area, keep in mind space and storage issues.
You can use benches instead of chairs as the seats of benches come with hidden storage areas under the seat cushions.
One can use these areas for more minor, less frequently used items, such as tablecloths for holiday parties.
14. Hang Pots on Unused Walls
Pots and pans, when stored in the cabinets, occupy a lot of storage space.
If you want to save more space in your kitchen, hang them on an empty wall rather than taking up space in precious cabinets with these pans and pots.
While hanging the pots on a bare wall in the kitchen or on the side of a big wardrobe, keep in mind that hang the largest pans first, and then you will hang the medium-sized ones and the smallest ones.
15. Place a Carpet on Kitchen Floor
When you place a carpet or mat under a thing like Sofa or table, it makes the place look more expansive.
A Carpet in the Kitchen can serve in two ways: keeping the kitchen warm and making it look bigger and broader. Go for a long carpet if you're very short on space.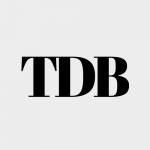 The Daily Buzz combines the pursuit of interesting and intriguing facts with the innate human desire to rank and list things. From stereotypical cat pictures to crazy facts about the universe, every thing is designed to help you kill time in the most efficient manner, all while giving you something to either laugh at or think about!