How Far From the House Should a Flower Bed Be? A flower bed should ideally be placed a sufficient distance away from the house to avoid any potential issues.
As a general guideline, it is recommended to keep a distance of at least 2 to 3 feet from the foundation of the house.
This allows for proper air circulation and prevents moisture accumulation against the walls, which can lead to problems like mold or damage to the foundation.
Additionally, maintaining a reasonable distance allows for easier access to the house for maintenance, such as painting or repairs.
However, it's important to consider the specific needs of the flowers you plan to plant and any local building codes or regulations that may apply.
Flower beds are a wonderful addition to any home's landscape, providing a burst of colour, fragrance, and beauty.
Properly placing a flower bed is crucial for its overall success and the overall aesthetics of your property.
When determining how far from the house a flower bed should be, several factors come into play, including sunlight exposure, soil conditions, proximity to utilities and structures, as well as accessibility and visibility.
Purpose and Function of a Flower Bed – How Far From the House Should a Flower Bed Be?
1. Enhancing Aesthetics and Curb Appeal
pinterest.com
One of the primary purposes of a flower bed is to enhance the overall aesthetics and curb appeal of your home.
By carefully selecting and arranging various flowers, plants, and foliage, you can create a visually pleasing and inviting landscape.
A well-designed flower bed can add colour, texture, and depth to your outdoor space, making it more visually appealing and enjoyable for residents and visitors.
2. Creating a Focal Point in the Landscape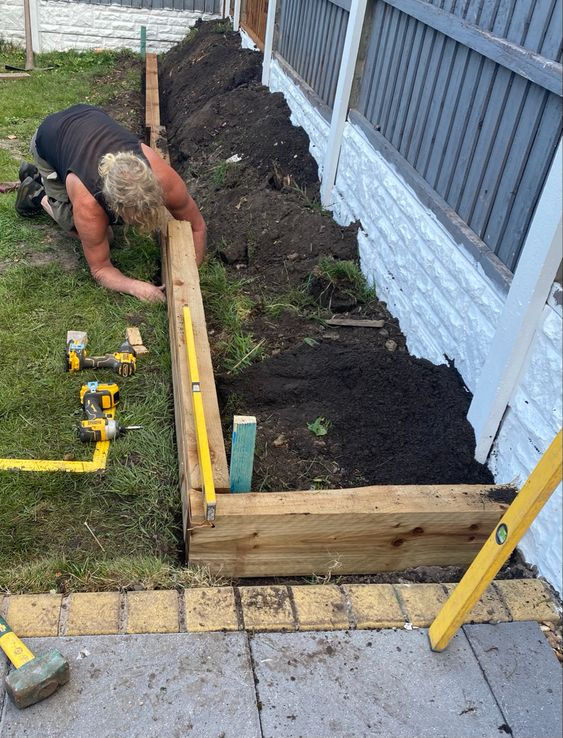 pinterest.com
A flower bed is a focal point in your landscape, drawing attention and providing a sense of cohesion to the overall design.
Placed strategically, it can serve as a centerpiece that adds interest and beauty to an otherwise plain or monotonous yard.
By selecting plants with varying heights, colours, and bloom times, you can create a visually dynamic and captivating focal point that captures the attention and admiration of all who see it.
3. Providing a Dedicated Space for Planting and Gardening – How Far From the House Should a Flower Bed Be?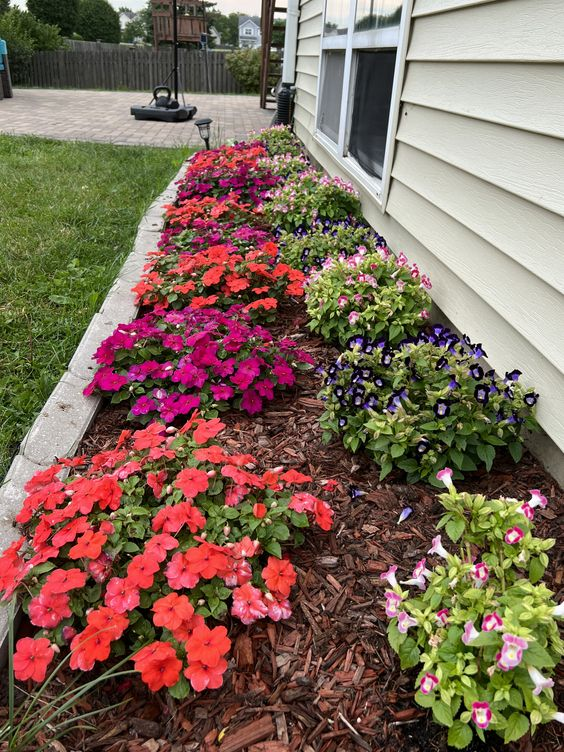 pinterest.com
Flower beds offer a dedicated space for planting and gardening activities. They provide an organized and controlled environment where you can cultivate and nurture various plant species.
Flower beds allow for proper soil preparation, planting, and maintenance, making caring for and managing your plants easier.
Additionally, having a designated area for gardening helps keep the rest of your yard tidy and organized.
Starting your gardening journey, a flower bed offers an ideal space to explore your passion for plants and nature.
It allows you to experiment with different plant combinations, styles, and themes, expressing your creativity and personal taste in a living, evolving work of art.
Factors to Consider When Deciding on Flower Bed Location
1. Sunlight Exposure
Understanding the sunlight requirements of different plants: Different plants have varying sunlight requirements, ranging from full sun to partial shade.
Assessing the amount of sunlight received in different areas around the house: Observe the areas around your house throughout the day to determine the sun's path and the amount of direct and indirect sunlight each area receives.
2. Soil Conditions
Evaluating the soil type and quality: Soil composition can impact the growth of your plants. The soil test program determines the soil's pH level, nutrient content, and drainage characteristics in the prospective flower bed location.
Ensuring proper drainage and moisture levels: Avoid areas prone to waterlogging or where water tends to accumulate.
3. Proximity to Utilities and Structures
Avoiding interference with underground utility lines: Before digging or planting, ensure you are aware of the location of underground utilities such as gas, water, or electrical lines.
Maintaining adequate space for structural integrity and maintenance: Consider the proximity of your flower bed to the house, fences, decks, or other structures.
4. Accessibility and Visibility
Considering the ease of access for maintenance and watering: Allows easy access to your flower bed for routine maintenance tasks such as weeding, watering, and pruning.
Maximizing visibility from key viewing areas: Select a location for your flower bed that can be easily seen and appreciated from key viewing areas such as windows, pathways, or outdoor seating areas.
5. Distance for Flower Bed Placement From the House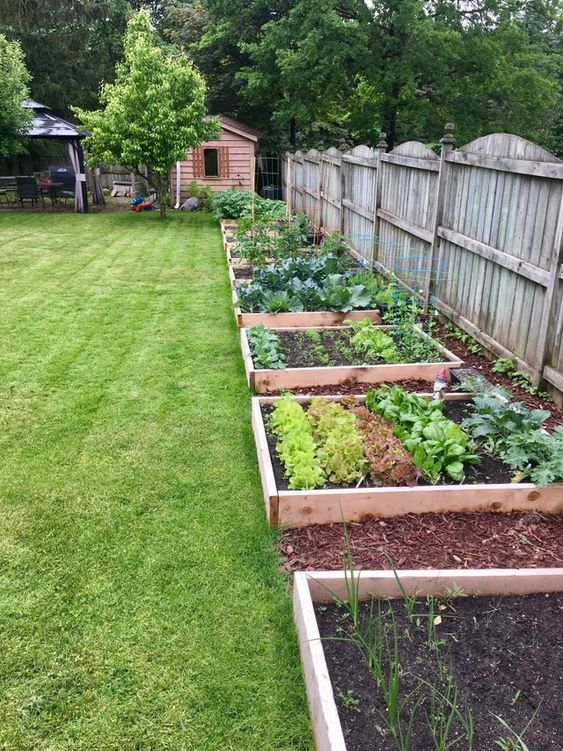 pinterest.com
When placing your flower bed with your house, it's important to consider the long-term impact on both the plants and the structural integrity of your home.
1. General Guidelines
Providing sufficient space for airflow and ventilation around the house: It's crucial to allow for proper airflow and ventilation around your house. A distance minimum of 1 to 2 feet between the flower bed and the house is typically recommended to ensure adequate airflow.
Preventing potential damage to the foundation and exterior walls: The roots of certain plants can extend far and wide, potentially causing damage to the foundation or exterior walls if planted too close to the house.
2. Minimum Recommended Distance
Consider plant growth and mature size: For growth habits and mature size of the plants you intend to include in your flower bed. Some plants, such as shrubs or trees, can grow significantly larger over time.
Considering the spread of roots and potential soil moisture impact: Plants with extensive root systems can compete for nutrients and moisture with the soil surrounding your house's foundation.
Alternative Options for Flower Bed Placement – How Far From the House Should a Flower Bed Be?
Traditional ground-level flower beds may not be feasible in some situations due to limited space, unsuitable soil conditions, or specific design preferences.
Fortunately, alternative options can still allow you to enjoy the beauty and benefits of a flower bed. Consider the following alternatives when determining the placement of your flower bed:
1. Raised Beds or Containers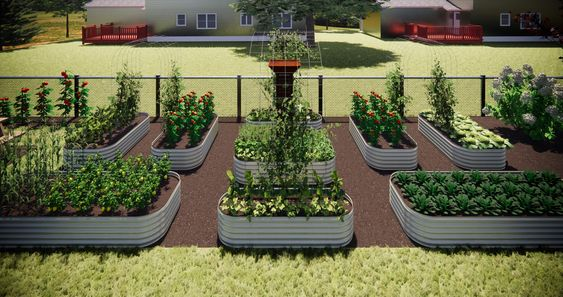 pinterest.com
Overcoming limited space or unsuitable soil conditions: Raised beds solve areas with limited space or poor soil quality. By constructing elevated planting areas, you can create a flower bed above the ground level, allowing for better soil composition, drainage, and nutrient content control.
Adjusting placement based on specific requirements: Raised beds and containers offer flexibility in placement. You can position them closer to the house or even against exterior walls, providing sufficient access and airflow. This allows for easier maintenance, better utilization of available space, and customization to suit your design preferences.
2. Vertical Gardening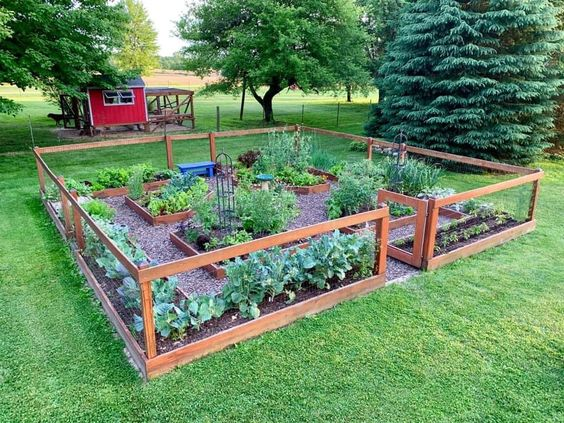 pinterest.com
Utilizing walls or fences for vertical flower beds: Vertical gardening offers a unique way to incorporate plants in tight spaces or areas where traditional ground-level flower beds are not feasible. Attaching containers, pockets, or trellises to walls or fences allows you to create a vertical flower bed, adding a stunning visual element to your outdoor space.
Exploring techniques such as trellises or hanging baskets: Various techniques can be employed in vertical gardening. Trellises and arbours support climbing plants, while hanging baskets or wall-mounted containers allow cascading or trailing plants. These methods maximize vertical space, add depth to your landscape, and can be positioned strategically for visibility and accessibility.
Whether you choose raised beds, containers, or vertical gardening, these alternative options offer versatility in flower bed placement and enable you to adapt to different landscape challenges.
They also provide opportunities for creative and unique designs, allowing you to showcase your style and create a visually stunning garden.
It's important to consider factors such as sunlight exposure, soil conditions, and accessibility when choosing alternative flower bed options.
Ensure proper drainage, provide adequate sunlight, and consider the weight and stability of structures when installing raised beds or vertical gardening setups.
By exploring these alternative options, you can overcome limitations and still enjoy the beauty and benefits of a flower bed, even in challenging or unconventional spaces.
Conclusion
How Far From the House Should a Flower Bed Be? Properly placing a flower bed is crucial for its success, the health of your plants, and the overall aesthetics of your home's landscape.
By considering factors such as sunlight exposure, soil conditions, proximity to utilities and structures, and accessibility and visibility, you can make informed decisions about the location of your flower bed.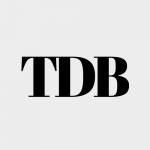 The Daily Buzz combines the pursuit of interesting and intriguing facts with the innate human desire to rank and list things. From stereotypical cat pictures to crazy facts about the universe, every thing is designed to help you kill time in the most efficient manner, all while giving you something to either laugh at or think about!