How Do You Prepare the Ground for a Flower Bed? To prepare the ground for a flower bed, start by clearing the area of any existing vegetation and debris.
Next, loosen the soil using a garden fork or tiller to improve its texture and allow for better root penetration. Remove any weeds or roots that may be present.
Then, amend the soil with organic matter such as compost or aged manure to enrich its nutrient content. Finally, level the ground by raking it smoothly to provide a suitable foundation for planting your flowers.
Creating a beautiful and thriving flower bed requires more than selecting and planting flowers.
Properly preparing the ground sets the foundation for healthy roots, improves soil quality, and enhances overall plant performance.
By investing time and effort into preparing the ground, you can ensure that your flower bed will be a stunning and successful addition to your garden.
Prepare the ground effectively and maximize the potential of your flower bed.
Selecting the location – How Do You Prepare the Ground for a Flower Bed?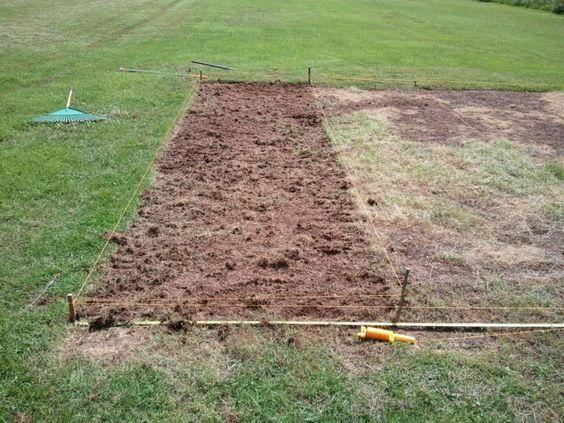 pinterest.com
Before diving into ground preparation, it's important to assess the site and carefully select the location for your flower bed.
Evaluating Sunlight
Determine the amount of sunlight your chosen location receives throughout the day. Most flowers require at least six hours of direct sunlight, although some species thrive in partial shade.
Take note of nearby structures or trees that may cast shadows and affect sunlight availability.
Soil Analysis and pH Testing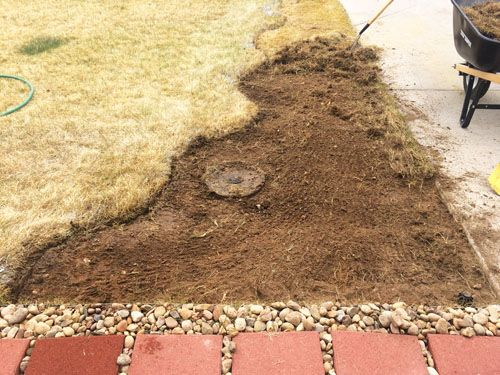 pinterest.com
Conduct a soil analysis to understand the composition and fertility of the soil in your chosen area. Test kits are readily available at garden centres or through soil testing laboratories.
Additionally, check the soil's pH level, as it influences plant nutrient availability. Most flowers prefer a slightly acidic to neutral pH range.
Considering Drainage and Water Availability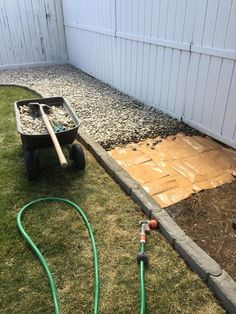 pinterest.com
Observe how water drains in the selected area. Excessive water accumulation can lead to root rot and other issues.
Ensure that the site has adequate drainage or plan to implement measures such as raised beds or soil amendments to improve drainage.
Also, assess the availability of a water source nearby for easy watering your flower bed.
By thoroughly assessing the site and selecting an appropriate location, you can tailor your ground preparation by optimizing its chances of success.
Clearing and Removing Existing Vegetation – How Do You Prepare the Ground for a Flower Bed?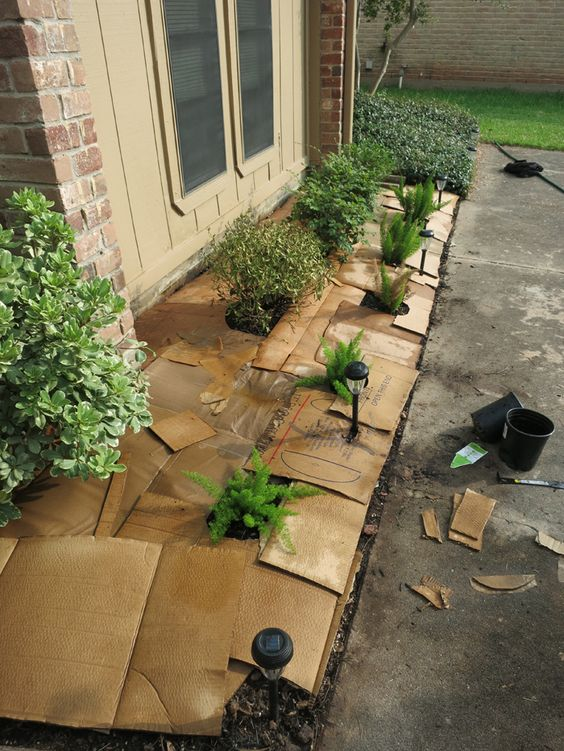 pinterest.com
Before you can prepare the ground for your flower bed, clearing away any existing vegetation and creating a clean slate for your plants is essential.
Follow these steps to remove unwanted plants effectively:
1. Removing Grass, Weeds, and Other Unwanted Plants
Start by manually pulling out any visible weeds and grass from the area. Ensure complete removal. Be thorough in your approach to prevent regrowth and competition with your flowers.
2. Dealing With Tree Roots and Large Rocks – How Do You Prepare the Ground for a Flower Bed?
If tree roots or large rocks are present in the area, you'll need to address them before proceeding. Use a shovel or an axe to carefully dig around the roots and rocks.
Remove them from the site to create a smooth and obstacle-free surface.
3. Using Appropriate Tools and Techniques
You may need to employ various tools and techniques. Hand tools such as a trowel or a weed digger can be effective for small areas.
A spade, garden fork, or even a rototiller can help speed up the process for larger areas. Choose the tools that best suit the scale of the task and ensure proper safety precautions.
Soil preparation
Once you have cleared the ground of existing vegetation, it's time to prepare the soil for your flower bed. Proper soil preparation is vital for optimal plant growth and nutrient uptake.
Follow these steps to prepare the soil effectively:
1. Loosening the Soil
Use a garden fork, a spade, or a tiller to loosen the soil in the designated area.
Break up any compacted soil and remove rocks, roots, and debris. Loosening the soil allows for better root penetration, improves drainage, and promotes air and water circulation within the soil.
2. Amending the Soil
Incorporating organic matter into the soil is essential for enriching its composition and fertility.
Add well-rotted compost, aged manure, or other organic materials to improve soil structure, increase water retention, and enhance nutrient content.
3. Balancing Soil pH if Necessary
Test the soil's pH level using a soil testing kit. Different flowers have varying pH preferences, so adjusting the soil pH is important if necessary. If the pH is too acidic, add agricultural lime to raise it.
Add elemental sulphur or acidic organic matter such as peat moss if the pH is too alkaline. Follow the recommended application rates on the product packaging and mix the amendments into the soil.
Leveling and Smoothing the Ground
After completing the soil preparation, it's important to level and smooth the ground to provide an even surface for your flower bed.
This step ensures proper water drainage and creates an aesthetically pleasing appearance. Follow these steps to level and smooth the ground effectively:
1. Removing Debris and Rocks
Before leveling the ground, remove any remaining debris, rocks, or clumps of soil. These can interfere with the leveling process and cause uneven areas in the flower bed.
Use a rake, shovel, or your hands to clear the area of any unwanted materials.
2. Raking the Soil to Create an Even Surface
It helps to fill in low spots and redistribute soil to achieve a level surface. Pay attention to any noticeable bumps or depressions and adjust the soil accordingly.
3. Checking for Proper Drainage
After leveling the ground, check the surface for proper drainage. If you notice areas where water tends to pool or collect, gently slope the soil to encourage proper water runoff.
This helps prevent waterlogged soil, which can be detrimental to plant health.
Watering and Settling the Soil
After completing the initial ground preparation for your flower bed, it's crucial to provide adequate water to help settle the soil and promote healthy plant growth.
Follow these steps for proper watering and settling of the soil:
1. Watering the Soil
Before planting your flowers, thoroughly water the soil in your flower bed. Use a gentle spray or a watering can to evenly moisten the soil.
Aim for deep watering to encourage the roots to grow deeper into the ground. Ensure that the water reaches the entire root zone of the flower bed.
2. Allowing the Soil to Settle
After watering, allow the soil to settle for a day or two. This helps the soil particles to compact naturally and stabilize, reducing the likelihood of soil sinking or uneven settling once the plants are in place.
Avoid compacting the soil manually, as it can create a dense and less aerated environment for the roots.
3. Monitoring Soil Moisture Levels
Regularly monitor the moisture levels in the flower bed to ensure optimal growing conditions for your plants. If it feels dry, it's time to water again.
Adjust the frequency and amount of watering based on the specific needs of the flower species you are growing.
4. Providing Consistent Watering
Establish a regular watering routine for your flower bed, especially during dry periods or hot weather. Water deeply and thoroughly to encourage healthy root development.
Avoid frequent light watering, which can promote shallow root growth and make plants more susceptible to stress.
Planting the Flowers
After completing the necessary steps for ground preparation, it's time to plant the flowers in your flower bed.
Before planting:
Consider the desired arrangement and spacing of your flowers.
Refer to the recommended spacing guidelines for each plant species to ensure proper air circulation and ample room for growth.
Consider factors such as plant height, colour combinations, and bloom times to create an aesthetically pleasing design.
Follow the instructions on the plant labels or seed packets for the appropriate hole depth and spacing between plants. For container-grown flowers, gently loosen the roots before planting.
Conclusion
How Do You Prepare the Ground for a Flower Bed? Assessing the site and selecting the location allows you to consider factors such as sunlight, soil type, and drainage.
Clearing and removing existing vegetation create a clean canvas for your flower bed. Soil preparation improves soil quality and fertility, providing a nutritious foundation for your plants.
Leveling and smoothing the ground create an even surface for proper water drainage and planting depths.
Installing edging or borders adds definition and structure to your flower bed, enhancing its visual appeal.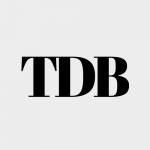 The Daily Buzz combines the pursuit of interesting and intriguing facts with the innate human desire to rank and list things. From stereotypical cat pictures to crazy facts about the universe, every thing is designed to help you kill time in the most efficient manner, all while giving you something to either laugh at or think about!