How do you layout a flower bed? Start by selecting a suitable location that has the right amount of sunlight exposure and access to water.
Consider factors like the existing landscape and the overall design of your garden. Once you have chosen the location, decide on the shape and size of the flower bed.
You can opt for a rectangular, circular, or curved shape based on your preferences and the available space. Before planting, prepare the soil by removing any weeds, rocks, or debris.
Loosen the soil and enrich it with organic matter such as compost to improve drainage and fertility.
Next, select plants that are suitable for the chosen location, considering their sunlight requirements and soil type preferences.
Consider the desired height, color, and blooming season of the plants to create an appealing design.
Finally, arrange the plants in a visually pleasing pattern within the flower bed, taking into account their growth habits and spacing recommendations.
This will help create a balanced and aesthetically pleasing flower bed layout.
Designing an attractive flower bed can elevate a plain outdoor area into a lively and welcoming sanctuary, offering a feast for the eyes and a tapestry of color throughout the changing seasons.
Carefully planning the layout of a flower bed is a crucial initial step in crafting a visually striking and flourishing garden, as it ensures that the selected plants complement each other and maximize the use of the available space.
This guide will delve into the various aspects to consider when planning a flower bed, from determining the ideal location and picking appropriate flowers, to developing the layout and maintaining its beauty over time.
By thoughtfully planning your flower bed's design, you can establish a breathtaking garden that delivers delight and serenity for you and your environment.
Choosing the location – How Do You Layout a Flower Bed?
Identifying the optimal location for your flower bed is a critical component in ensuring the thriving and aesthetic appeal of your garden.
Taking into account the factors mentioned below will assist you in making an informed decision:
1. Sunlight Requirements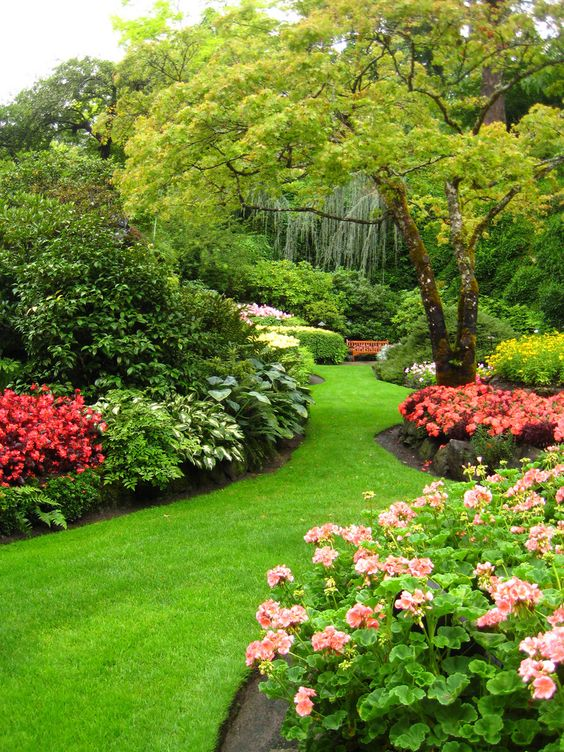 Image Credit: pinterest.com
Plants have diverse sunlight needs, making it essential to pick a spot that aligns with the light preferences of your selected flowers.
Observe the area at different times during the day to gauge the amount of sun exposure it gets. Choose locations with full sun, partial sun, or shade based on the plants you intend to cultivate.
2. Soil Type and Drainage – How Do You Layout a Flower Bed?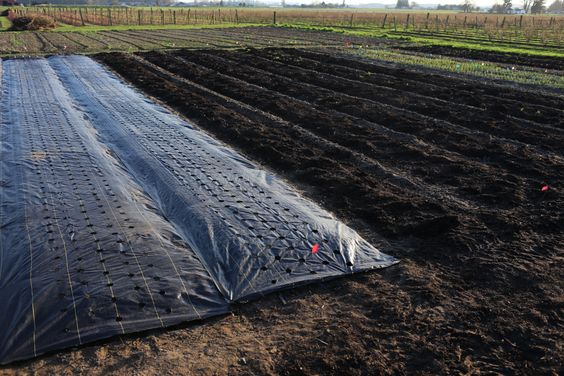 Image Credit: pinterest.com
Soil quality significantly impacts the well-being and growth of your flowers. Evaluate the soil type in your preferred location, noting if it's sandy, loamy, or clayey.
Confirm that the area has adequate drainage, as waterlogged soil can result in root rot and other plant ailments.
You may need to modify the soil to enhance its structure and fertility to accommodate the growth of your chosen plants.
3. Proximity to Existing Structures and Paths
Contemplate how your flower bed will blend with the current landscape and architectural features.
Positioning the flower bed close to walkways, patios, or other outdoor living areas can establish a harmonious and visually engaging garden design.
Be mindful that certain plants may possess invasive root systems that can potentially damage nearby structures or hardscape elements, so select your plantings and location with care.
Selecting the Right Flowers – How Do You Layout a Flower Bed?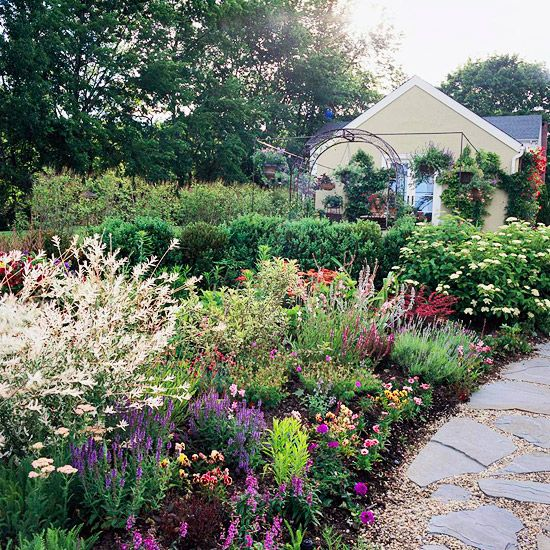 Image Credit: pinterest.com
Selecting the right flowers for your garden is essential for establishing a vibrant and flourishing flower bed. Take the following factors into account when making your decision:
Types of Flowers:
1. Annuals
These plants live for a single growing season, offering vivid color throughout their blooming period. Typical annuals include marigolds, petunias, and zinnias.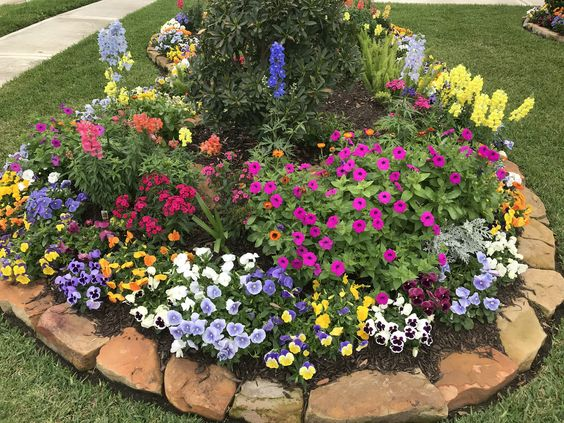 Image Credit: pinterest.com
2. Perennials
Perennials reappear year after year, providing enduring charm and structure to your garden. Daylilies, hostas, and coneflowers are examples of perennials.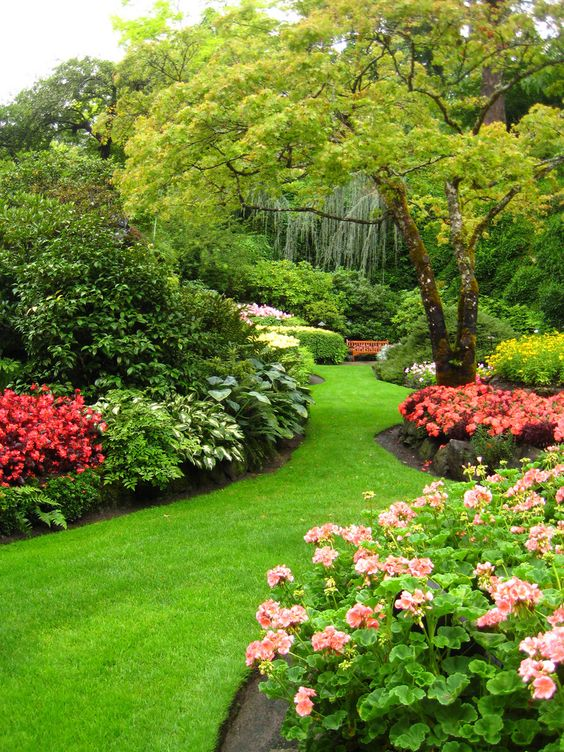 Image Credit: pinterest.com
3. Biennials
Biennial plants possess a two-year life cycle, with vegetative growth in the first year and blossoming in the second year. Hollyhocks and foxgloves are well-known biennials.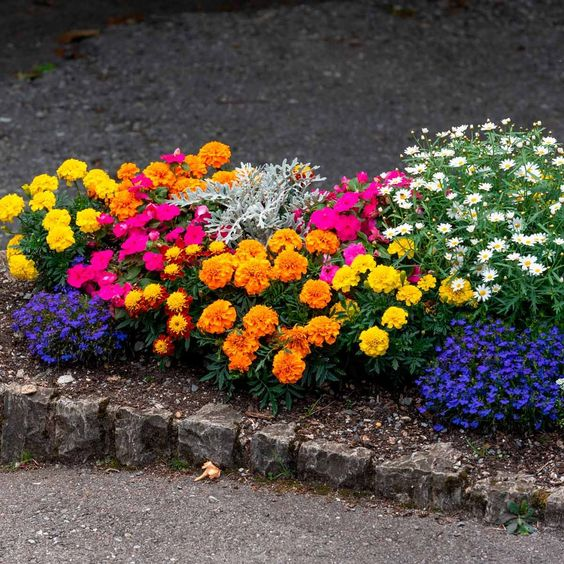 Image Credit: pinterest.com
Color Schemes and Combinations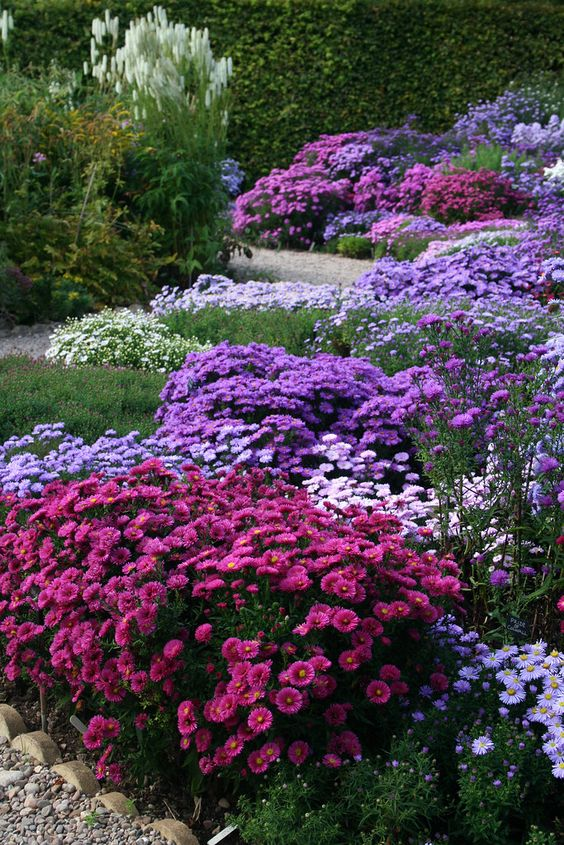 Image Credit: pinterest.com
Intentionally selecting flower colors can produce a balanced and eye-catching visual effect.
Consider employing complementary colors, monochromatic palettes, or striking contrasts to accomplish your desired appearance.
Additionally, consider the color and texture of the foliage for extra interest.
Planting Season and Bloom Time
Opt for a combination of plants with diverse blooming periods to guarantee a continuous display of color throughout the growing season.
Mix early, mid, and late-season bloomers to maintain visual appeal from spring to autumn.
Moreover, keep in mind the planting season for each flower, as some might need to be started indoors, while others can be directly sown in the garden.
Designing the Layout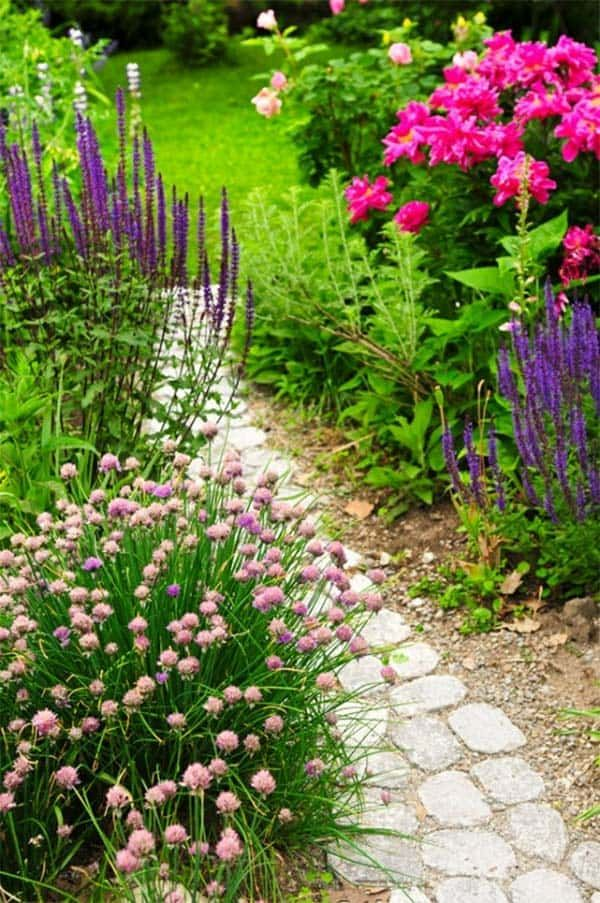 Image Credit: pinterest.com
Developing an attractive and practical layout for your flower bed is vital for realizing a beautiful and unified garden. Keep the following factors in mind when designing your layout:
1. Size and Shape
Image Credit: pinterest.com
Decide on the size and shape of your flower bed, taking into account the available space, garden style, and overall design objectives.
Curved borders can generate a gentler, more organic appearance, while straight lines and angles can convey a more formal, structured look.
2. Focal Points and Accents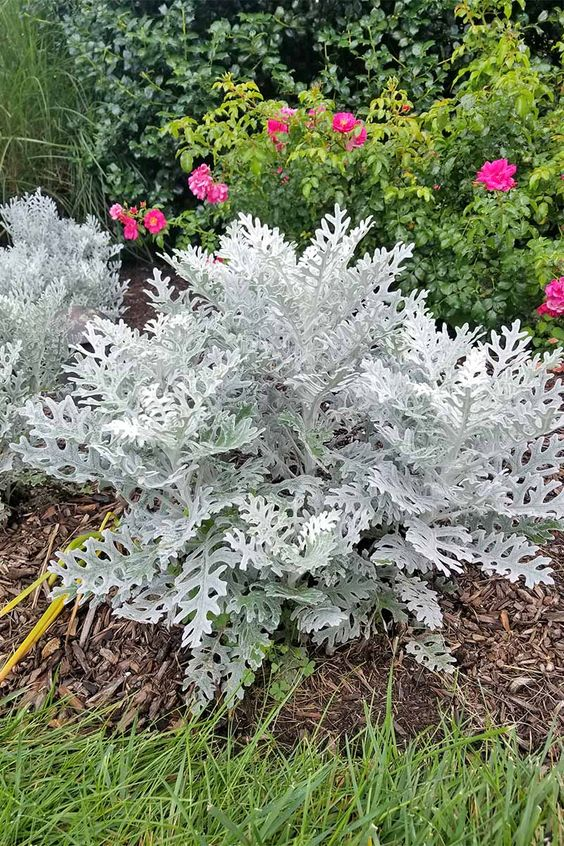 Image Credit: pinterest.com
Incorporate focal points, like sculptures, water features, or large plants, to capture attention and enhance your flower bed's appeal.
Thoughtfully placed accents can guide visitors through the garden and create a sense of depth.
3. Layering and Height Considerations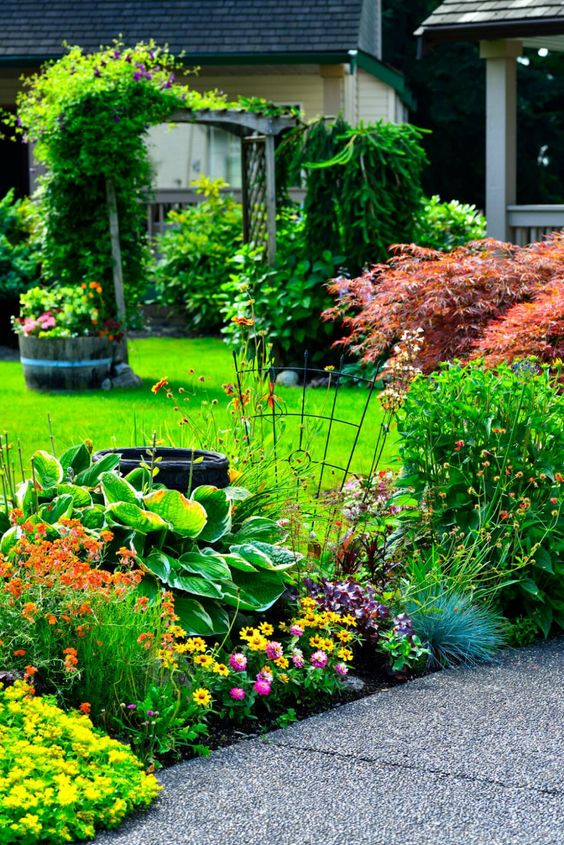 Image Credit: pinterest.com
Organize plants in layers, positioning taller plants at the rear or center of the bed, medium-height plants in the middle, and shorter plants at the front or edges.
This tiered approach allows each plant to be noticeable and ensures that taller plants don't overshadow their shorter counterparts.
4. Integrating Hardscape Elements
Image Credit: pinterest.com
Hardscape components, such as walkways, edging, or seating, can contribute structure and functionality to your flower bed.
Select materials and styles that harmonize with your garden's overall design for a cohesive appearance.
Preparing the Soil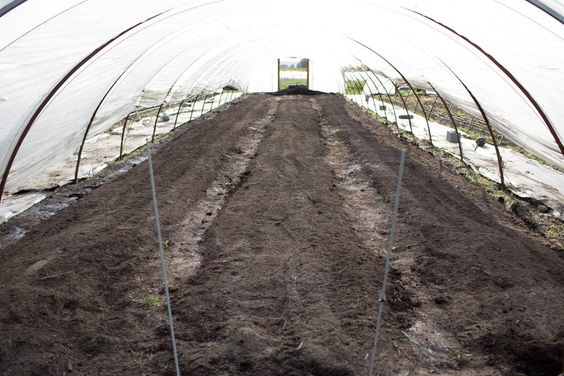 Image Credit: pinterest.com
Creating a nurturing environment for your plants by preparing the soil properly is crucial for the growth and well-being of your flowers.
Follow these guidelines to ensure a fertile and welcoming space for your plants.
1. Weed Control and Prevention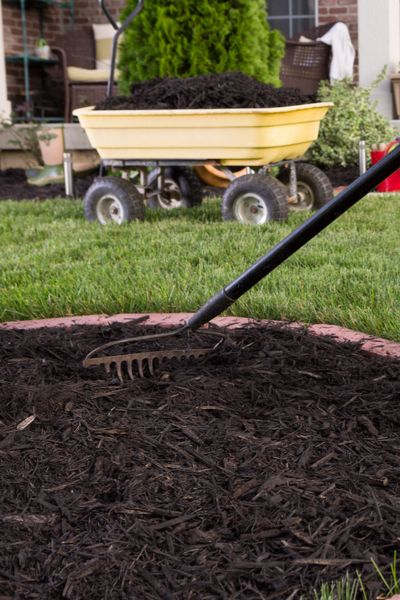 Image Credit: pinterest.com
Enclose any existing weeds before establishing your flower bed to reduce competition for nutrients, water, and light. Remove weeds manually or utilize a hoe to cut them just beneath the soil surface.
To inhibit future weed growth, consider applying a weed barrier, like landscape fabric or a generous layer of mulch, which will also assist in maintaining soil moisture and regulating temperature.
Planting and Spacing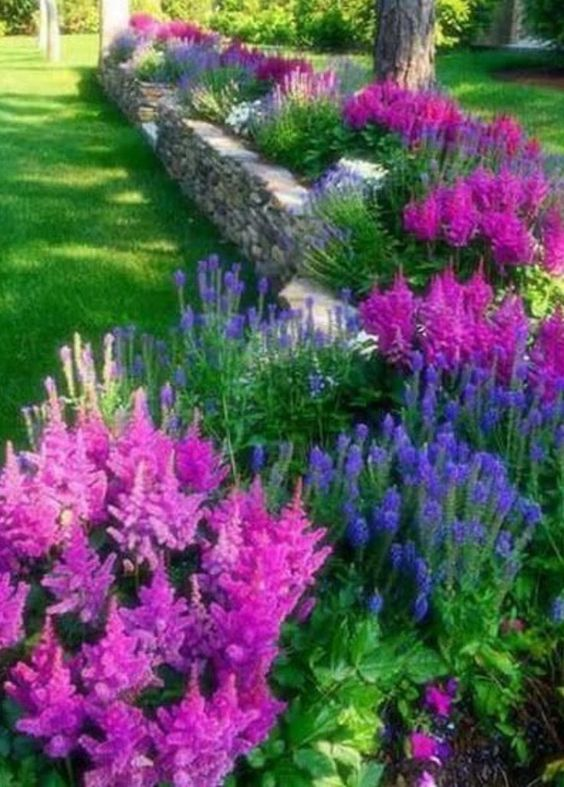 Image Credit: pinterest.com
Appropriate planting and spacing are crucial for promoting the health and aesthetic appeal of your flower bed.
Adhere to these recommendations to provide your plants with the best opportunity to thrive and create a visually pleasing garden display:
Root System Considerations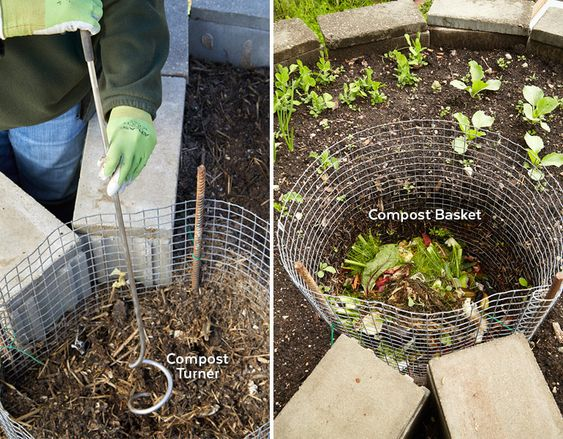 Image Credit: pinterest.com
Before planting, carefully loosen the root ball of each plant to stimulate root growth and establishment. For seeds, adhere to the suggested planting depth and spacing instructions on the seed packet.
Conclusion
How do you layout a flower bed? Creating, planting, and maintaining a flower bed can be a fulfilling and delightful experience that adds charm and vibrancy to your outdoor area.
By thoughtfully selecting the location, choosing the right flowers, crafting an attractive layout, preparing the soil, and ensuring proper planting and spacing, you establish the groundwork for a flourishing garden.
Continuous maintenance, including watering, fertilizing, pruning, and watching for pests and diseases, will support the long-term success of your flower bed.
As you gain expertise and witness the outcomes of your endeavors, you can make modifications and enhancements to develop the ideal flower bed that harmonizes with your landscape and personal taste.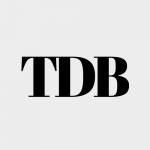 The Daily Buzz combines the pursuit of interesting and intriguing facts with the innate human desire to rank and list things. From stereotypical cat pictures to crazy facts about the universe, every thing is designed to help you kill time in the most efficient manner, all while giving you something to either laugh at or think about!