How Do I Turn My Grass Into a Flower Bed? To turn grass into a flower bed, start by marking the desired area and removing the grass and vegetation using a shovel or tiller.
Ensure you remove any roots or rocks from the soil. Next, improve the soil by adding organic matter like compost or aged manure to enhance its fertility and drainage.
Work the organic matter into the soil using a garden rake or tiller. Finally, level the bed and ensure it is well-prepared before planting your chosen flowers.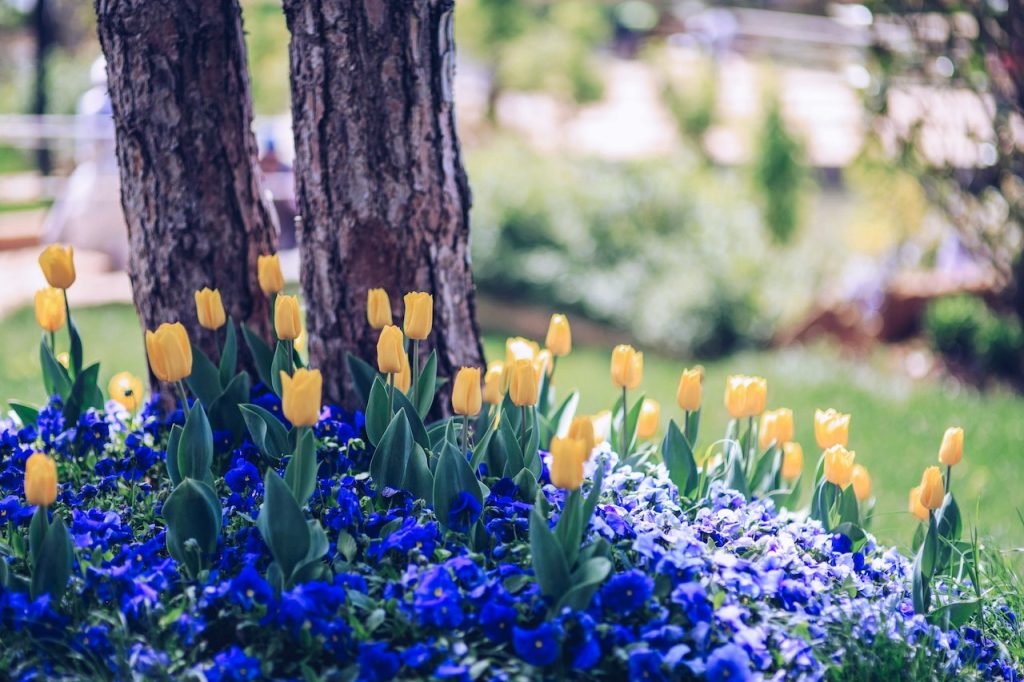 If you find yourself longing for a burst of colour and natural beauty in your yard, transforming a patch of grass into a vibrant flower bed can be fulfilling.
You can create a captivating focal point, attract pollinators, and enhance the overall aesthetics of your outdoor space.
Deciding the Area – How Do I Turn My Grass Into a Flower Bed?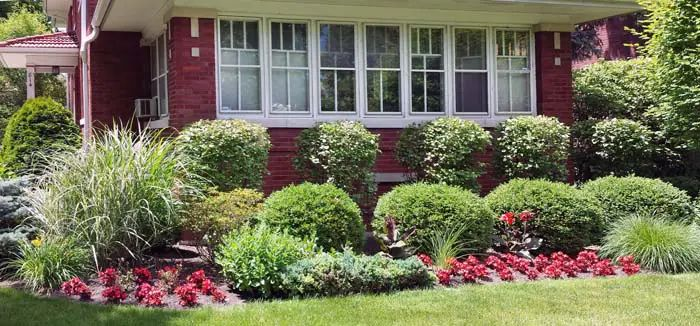 pinterest.com
Before turning your grass into a flower bed, it's crucial to assess the area where you plan to create your new garden space.
Evaluating various factors will help you make informed decisions and set the foundation for a successful transformation.
1. Choosing the Location for the Flower Bed
Consider the exposure to sunlight: Observe the area to understand how much sunlight the place receives.
Evaluate the drainage: Ensure the chosen area has proper drainage to prevent waterlogging, as excessive moisture can harm the plants.
Accessibility: Consider proximity to water sources for convenient watering and maintenance.
2. Evaluating the Soil Conditions – How Do I Turn My Grass Into a Flower Bed?
Soil type: Determine the type of soil in your selected area, whether it is sandy, clayey, loamy, or a combination. Different plants thrive in different soil types, so understanding your soil composition is essential.
Soil pH: Test the soil's pH level using a soil testing kit. The neutral pH range (around 6.0-7.0), but specific plants may have different preferences.
Soil fertility: Assess the fertility of the soil by examining its organic matter content and nutrient levels. Adding compost or organic amendments may be necessary to improve soil fertility.
3. Determining the Size and Shape of the Flower Bed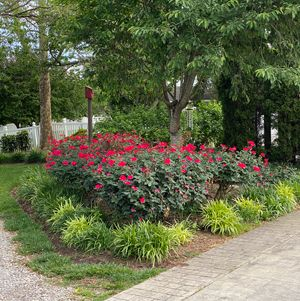 pinterest.com
Consider available space: Evaluate the area you want to allocate for the flower bed.
Shape and design: Decide on the shape and design of your flower bed. Common options include rectangular, circular, or free-flowing organic shapes. Consider how the shape will complement your overall landscape design.
Clearing the Grass – How Do I Turn My Grass Into a Flower Bed?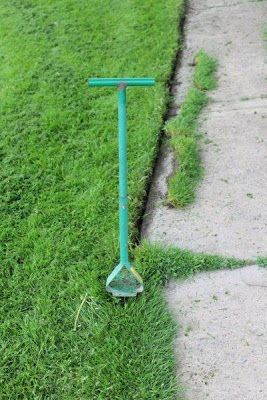 pinterest.com
Once you have assessed the area and determined the location for your flower bed, the next step is to clear the existing grass to make way for your new garden space.
1. Methods for Removing Grass
Manual Removal
Use an axe to cut through the grass, starting at one edge of the designated flower bed area.
Lift and remove the grass and its underlying roots, working your way across the entire area.
Dispose of the grass properly, either by composting or recycling it.
Using a Sod Cutter
Rent or purchase a sod cutter, a machine specifically designed for removing large grass areas.
Follow the manufacturer's instructions for operating the sod cutter, adjusting the cutting depth to remove both the grass and the underlying roots.
Roll up and remove the strips of grass and dispose of them accordingly.
Smothering the Grass – How Do I Turn My Grass Into a Flower Bed?
This method takes longer but requires less physical effort.
Lay down layers of newspaper or cardboard directly over the grass, ensuring complete coverage.
Leave the layers in place for several weeks or months to smother the grass and gradually break it down.
Proper Disposal of the Grass
If the grass is healthy and free from weeds, you can consider repurposing it in other areas of your yard or offering it to neighbours or community members.
Suppose the grass is infested with weeds or diseases. In that case, it's best to dispose of it in yard waste bins, compost piles, or local green waste facilities, following your local waste disposal guidelines.
Clearing the grass is a crucial step in preparing your flower bed. Ensuring that you remove both the grass and its roots effectively.
Properly disposing of the grass, you help prevent the spread of weeds and create a clean canvas for your new flower bed.
Assessing Plants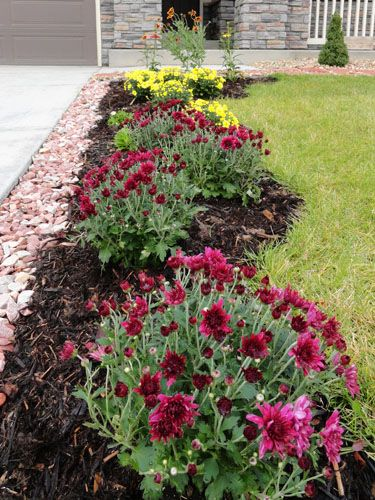 pinterest.com
Choosing the right plants for your flower bed is essential to create a visually appealing and thriving garden. Consider the following factors when selecting plants:
1. Identifying the Appropriate Plants for the Flower Bed
Sunlight requirements: Assess the sunlight your flower bed receives and select plants accordingly.
Soil preferences: Consider the soil type and pH of your flower bed area and choose plants that can adapt and flourish in those conditions.
Water requirements: Evaluate the moisture levels in your flower bed and select plants with compatible water needs, whether they prefer moist soil or are more drought-tolerant.
2. Considering Factors Such as Sunlight, Water Requirements, and Soil Conditions
Annuals vs. perennials: Decide whether you want to include annual plants that provide vibrant blooms for one season or those that come back year after year.
Height and growth habits: Consider the height and spread of the plants to ensure they fit well within the space and create a harmonious arrangement.
Colour and texture: Select plants that offer a variety of colours, textures, and foliage types to create a visually appealing and dynamic flower bed.
3. Choosing a Mix of Annuals, Perennials, and Bulbs for Continuous Bloom
Annual plants: Include annuals like marigolds, petunias, zinnias, or impatiens for vibrant and showy blooms during the summer months.
Perennial plants: Incorporate perennials such as daylilies, lavender, black-eyed Susans, or coneflowers for long-lasting beauty year after year.
Bulbs: Integrate bulbs like tulips, daffodils, or crocuses for early spring colour and naturalizing effects.
By carefully selecting plants well-suited to your climate, soil conditions, and available sunlight, you can create a flower bed that thrives throughout the seasons.
Remember to consider the visual aspects such as colour, texture, and blooming seasons to create an aesthetically pleasing and diverse garden space.
Planting the Flower Bed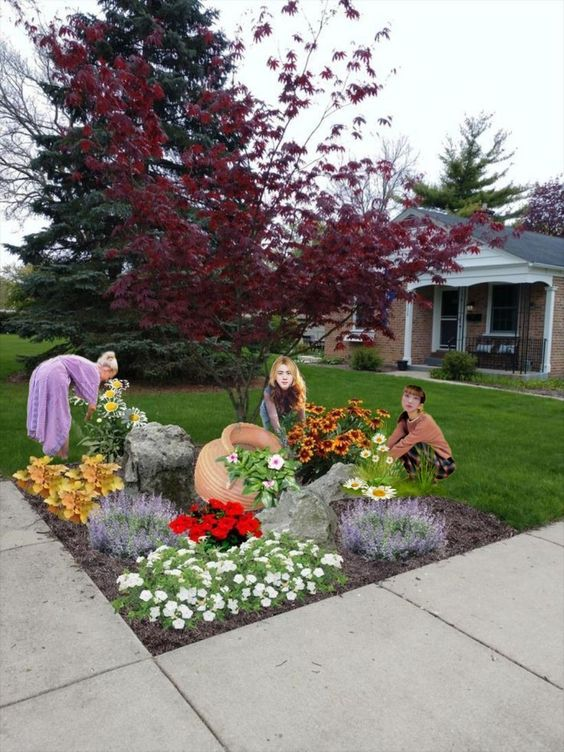 pinterest.com
It's time to bring your garden to life by planting them in their designated spots. Follow these steps to ensure proper planting:
1. Determining Spacing and Arrangement of Plants
Refer to the planting guidelines for each plant to determine the recommended spacing between them.
Create a focal point by placing taller plants at the back or centre of the flower bed and gradually transitioning to shorter plants toward the front or edges.
2. Digging Holes and Planting the Flowers Properly
Gently remove the plants from their containers, taking care not to damage the roots.
Place the plants in the prepared holes.
Backfill the holes with soil, gently firming them around the roots to eliminate air pockets.
Water the newly planted flowers to provide moisture to the roots.
3. Watering and Mulching the Flower Bed
Water the flower bed immediately after planting to moisten the soil.
Water is regularly based on the specific water requirements of the plants, considering factors like weather conditions and soil moisture levels.
Wood chips or straw around the plants to help conserve moisture, suppress weed growth regulate soil temperature.
4. Ongoing Care and Maintenance
Monitor the moisture levels of the flower bed regularly and water as needed, avoiding overwatering or allowing the soil to dry excessively.
Fertilize the plants according to their specific needs, using a balanced or slow-release fertilizer during the growing season.
Remove any weeds that may emerge to prevent competition for nutrients and space.
Deadhead or remove faded flowers to promote continuous blooming.
Prune or trim the plants to maintain their shape and promote healthy growth.
Following these planting and care practices can establish a well-structured and thriving flower bed.
Remember to provide adequate water, nutrients, and ongoing maintenance to ensure the long-term success of your garden.
Conclusion
How Do I Turn My Grass Into a Flower Bed? Transforming your grass into a flower bed is a rewarding endeavor that can bring beauty, color, and a sense of tranquillity to your outdoor space.
Following the outlined steps, you can successfully create a flourishing garden that becomes a focal point in your landscape.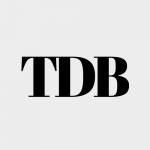 The Daily Buzz combines the pursuit of interesting and intriguing facts with the innate human desire to rank and list things. From stereotypical cat pictures to crazy facts about the universe, every thing is designed to help you kill time in the most efficient manner, all while giving you something to either laugh at or think about!