Can I Make a Flower Bed on Top of Grass? Yes, you can make a flower bed on top of grass.
While it is more common to remove the grass and prepare the soil before creating a flower bed, it is also possible to build a flower bed directly on top of existing grass.
To do this, you will need to follow a few steps. First, mark the outline of your desired flower bed using a hose or spray paint. Then, mow the grass as short as possible and remove any debris.
Next, use a garden fork or tiller to loosen the top layer of soil, breaking up the grassroots. This will create a better environment for your flowers to grow.
Add a layer of compost or topsoil on top of the loosened soil, about 4-6 inches thick, and mix it in with the existing soil.
Finally, plant your flowers in the prepared bed, ensuring they have enough space to grow. It's important to regularly water and maintain your flower bed to ensure the health and growth of your plants.
Creating a flower bed can add a touch of beauty and vibrancy to your outdoor space. It is a dedicated area for growing various flowers, plants, and even vegetables.
Flower beds are commonly used in landscaping to enhance the visual appeal of a garden, provide focal points, and attract pollinators.
If you're considering making a flower bed on top of grass, several factors must be considered to ensure its success.
This guide will explore the possibilities and offer guidance on creating a thriving flower bed on existing grass. Whether you're a gardening enthusiast or a beginner, this outline will help you understand the necessary steps and considerations to turn your grassy area into a flourishing floral paradise.
Considerations of the Facts Before Creating a Flower Bed on Top of the Grass – Can I Make a Flower Bed on Top of Grass?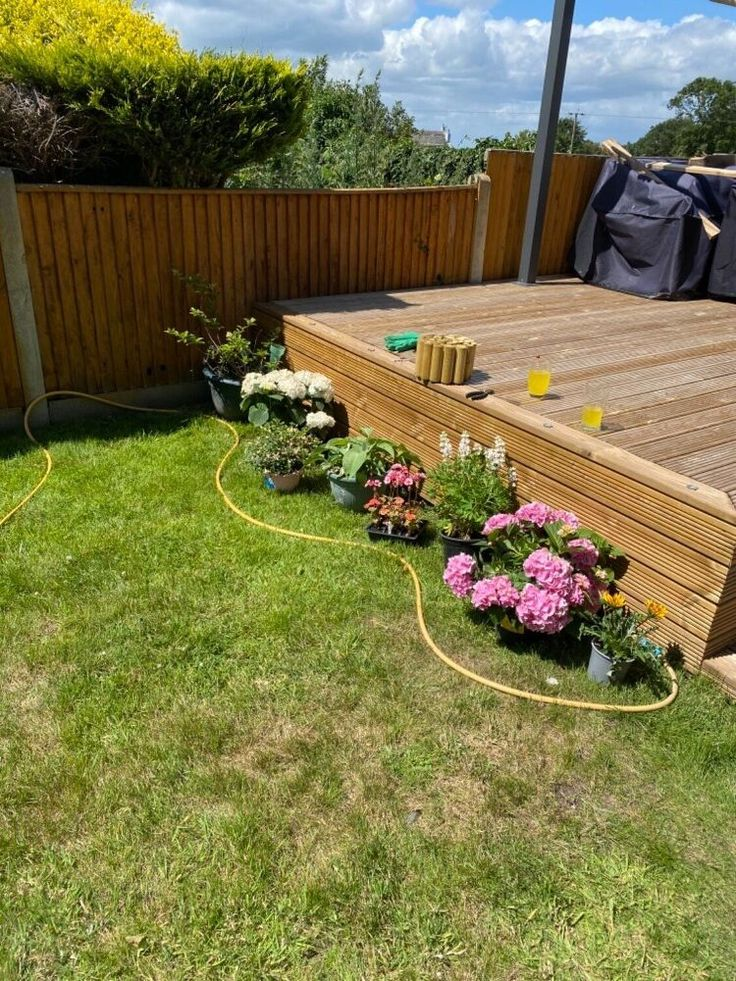 pinterest.com
Before creating a flower bed on top of the grass, it's important to consider certain factors. By carefully evaluating these aspects, you can ensure that your flower bed will thrive and complement your landscape. Here are some key considerations to keep in mind:
1. Purpose and Location of the Flower Bed
Determine the purpose of your flower bed. Are you aiming for a decorative focal point, a functional herb or vegetable garden, or a combination?
Assess the location where you plan to create the flower bed. Consider factors such as sunlight exposure, accessibility, and how it will blend with the existing landscape.
2. Soil Preparation and Quality
Evaluate the quality of the soil beneath the grass. Is it well-drained, fertile, and suitable for plant growth? If not, you may need to amend the soil to provide optimal flower conditions.
Conduct a soil test to determine its pH level and nutrient content. This will help you identify any deficiencies and adjust the soil accordingly.
3. Sunlight and Drainage
Observe the amount of sunlight the area receives throughout the day. Different flowers have varying sunlight requirements, so choosing plants that match the available light conditions is important.
Consider the drainage capacity of the area. Ensure that excess water can flow away from the flower bed to prevent waterlogging, which can harm the plants.
4. Watering – Can I Make a Flower Bed on Top of Grass?
Assess the availability of a water source near the flower bed. Adequate watering is essential for the health and growth of plants.
Consider the level of maintenance you are willing to undertake. Some flowers require more care and attention, so choose varieties that align with your maintenance capabilities.
5. Existing Grass Condition and Removal Options
Evaluate the condition of the grass you plan to convert into a flower bed. You can incorporate the grass into the flower bed design if it is healthy and weeds-free.
Alternatively, if the grass is sparse, infested with weeds, or unsuitable for your desired plants, you may need to remove it completely before proceeding with the flower bed creation.
Steps to Create a Flower Bed on Top of the Grass – Can I Make a Flower Bed on Top of Grass?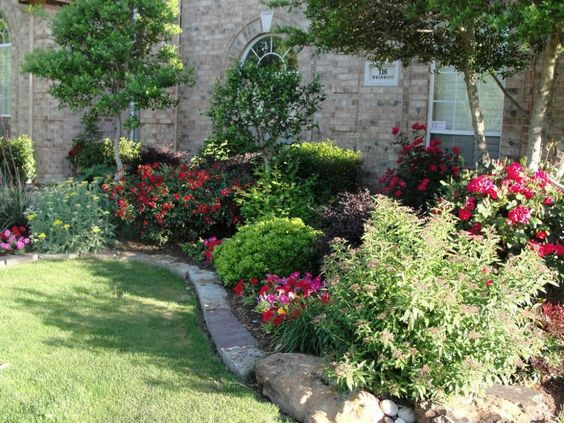 pinterest.com
Once you have taken the necessary considerations into account, you can follow these step-by-step instructions to create a flower bed on top of grass:
1. Marking the Boundaries and Shape of the Flower Bed
Use stakes, twine, or a garden hose to outline your flower bed's desired shape and boundaries.
Experiment with different shapes and sizes until you find one that suits your aesthetic preferences and the available space.
2. Clearing the Grass and Removing Any Obstacles
Cut the grass within the marked boundaries using a lawnmower or a grass trimmer.
Use a shovel or a garden spade to remove the top layer of grass and roots. This will ensure a clean slate for your flower bed.
Remove any rocks, roots, or other obstacles hindering plant growth or interfering with the flower bed's construction.
2. Amending the Soil for Better Drainage and Fertility
Test the soil's pH level and nutrient content using a soil testing kit.
Based on the test results, amend the soil by adding organic matter such as compost, well-rotted manure, or peat moss.
Mix the amendments thoroughly into the existing soil to improve its drainage, fertility, and overall structure.
3. Installing Edging or Borders to Define the Flower Bed
Choose the edging or border material that suits your desired aesthetic and functional needs, such as bricks, stones, metal, or plastic edging.
Dig a shallow trench along the marked boundaries of the flower bed.
Install the chosen edging or border material securely in the trench, ensuring it is level and stable.
4. Selecting and Planting Suitable Flowers
Research and choose flowers that thrive in the specific growing conditions of your flower bed, considering factors such as sunlight requirements, soil type, and climate.
Purchase healthy and well-established flower seedlings or seeds from a reputable nursery or garden center.
Dig individual holes or prepare a planting area within the flower bed, following the spacing recommendations for each flower type.
Gently place the flowers in the prepared holes, ensuring the root ball is level with or slightly above the soil surface.
Backfill the holes with soil, firming it gently around the base of each plant.
5. Mulching the Flower Bed to Retain Moisture and Suppress Weed Growth
Apply a layer of organic mulch, such as wood chips, straw, or shredded bark, around the base of the plants.
Spread the mulch evenly, ensuring a thickness of 2-3 inches.
Leave a small gap around the stems of the plants to prevent moisture accumulation and potential rotting.
Conclusion
Can I Make a Flower Bed on Top of Grass? Creating a flower bed on top of grass can transform your outdoor space into a beautiful and colorful oasis.
By considering important factors such as purpose, location, soil quality, sunlight, and maintenance requirements, you can lay the foundation for a thriving flower bed.
Following the step-by-step process of marking boundaries, clearing grass, amending soil, installing borders, selecting and planting suitable flowers, mulching, and maintaining the bed will help you achieve the desired results.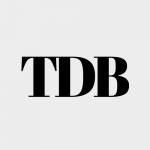 The Daily Buzz combines the pursuit of interesting and intriguing facts with the innate human desire to rank and list things. From stereotypical cat pictures to crazy facts about the universe, every thing is designed to help you kill time in the most efficient manner, all while giving you something to either laugh at or think about!