Three Young Men Left A Restaurant Without Paying—But Then The Owner Got An Unexpected Note

Gareth Fuller - PA Images/GettyImages
In this day and age it's always an unpleasant surprise to find out that the restaurant you're in only takes cash.
Giphy
Recently, three young men were dining at the Kilimandjaro restaurant in Middlesbrough. When they finished their meals they found themselves in a cash quandary.
Giphy
All three men were only carrying cards. So they did the responsible thing and set off to find an ATM machine to save the day.
However, while they were searching they realized,
#1 - You can never find an ATM when you need one.
Giphy
And #2 - Their train home was leaving and they didn't have time to keep looking and return and pay the bill. So they got on their train and headed home, without paying their bill.
Now so far this sounds pretty shady and at first the restaurant owner was thinking the same thing.
Giphy
Now the bill wasn't astronomical so the owner let go and let God. When speaking with Gazette Live owner Apollo Apollinaire said :
"I put it down to a bad experience. Usually people don't walk out as a whole group for a cash machine. I just told my staff to next time make sure one of them stays or they leave some belongings until they come back. We accepted they would never come back and we had lost the money."
BUT, just when we all thought complete hope in humanity was lost, some time later, Apollo received a letter in the mail and $40. The note said :
We exited Kilimandjaros to embark on a search for a A.T.M machine.
On our search, it was apparent that the last train to our hometown was shortly about to depart. This diverted our attention away from finding an A.T.M machine and led to us running to the train station and just making our train. It was at this point, being too late, we realized our actions and decided to write this letter of apology with £40 enclosed in this envelope.

Giphy
The gentlemen also apologized for not being able to deliver the letter and cash face to face but in return said they would happily leave a five-star review on Trip Advisor.
Apollo, overwhelmed shared the letter on the Kilimandjaro Facebook page, just to rejoice that there are still many decent people alive in the world.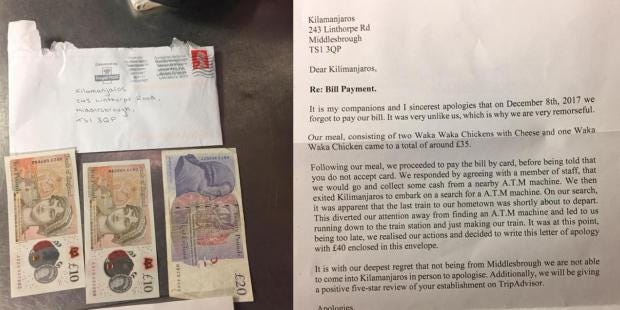 KILIMANDJARO MIDDLESBROUGH/FACEBOOK
That definitely gives hope in humanity.
Giphy
Unfortunately the men left no return address so Apollo is hoping by going viral they will see all this so that he may compensate them for their honesty. He is offering a free meal or a bottle for each of Kilimandjaro's special sauce.
Giphy
So spread the word and find these boys!

Lesson learned though... ALWAYS carry cash! And never not settle debts!
Giphy
H/T : Indy100