Here's How You Can Free Up Space on Your iPhone Without Deleting Pics
There must be a way to utilize as much space as possible on your iPhone, right?
Space is important, man. How else are you supposed to fit all those selfies and cat videos into your phone? Fun fact for those of you who weren't aware: In 2014, a class action lawsuit against Apple was filed in California. The lawsuit
alleged
that Apple "failed to disclose" that:
as much as 23.1 percent of the advertised storage space on 8 GB and 16 GB devices would be consumed by iOS 8. There is also a discrepancy between the advertised amount of space available for users on a device and the actual space available, the lawsuit claims. Instead of providing the promised amount of storage, Apple pushes users to buy more space on the iCloud.
Tragedy! So what do you do when you see the dreaded message?
---
1. Here's an idea (that actually went viral!):
A Reddit user posted this method on the site and it quickly went viral. The user recommended users log into the iTunes store and attempt to rent a movie with a large file size. The large file size would, of course,trigger a notification like the one pictured above. After selecting "OK," and heading to General Settings (and then the Storage and iCloud tabs) users would notice that more space would be freed up on their phones!
---
2. Delete old text messages.
Sounds too simple, right? Check your messages, though. When was the last time you spoke to some of these people? There's an easy solution to this problem. Go to Settings, select Messages, then reset your Keep Messages to 30 days. Any messages older than 30 days will be deleted from your phone!
---
3. Delete games you don't play!
Do you even play 
Angry Birds
? If the answer is no, then you know what you must do. A game file can be tiny, but it can easily take up 1 GB of space because of 3-D graphics. Delete it (and 
Candy Crush
!) by tapping on the app and accessing Manage Storage.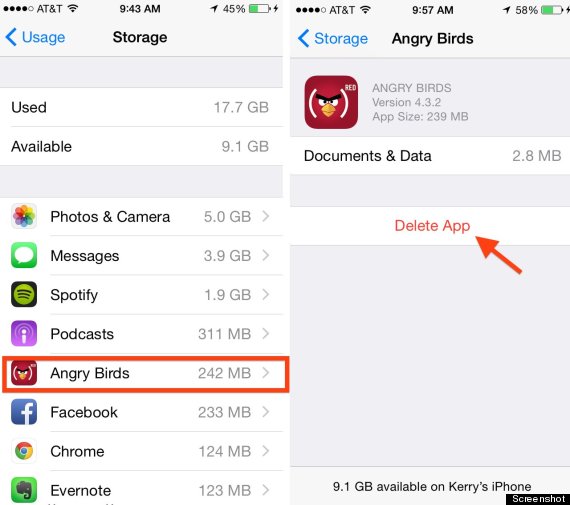 ---
4. Old podcasts and videos? Throw those in the trash!
Serious question: How many times are you going to listen to that podcast? If the answer to this question is 
Hmmm... probably no more than once
, you should get rid of it. Even a 30-minute podcast can take up 25 MB of space. Cool fact: Apple's Podcast app sorts the podcasts you've already played at the bottom of the list. You can swipe left to delete. (We're looking at you, Tinder.) The same applies to videos!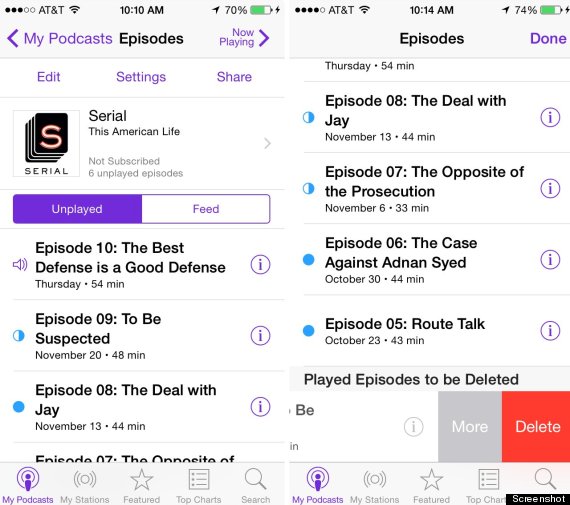 ---
5. A note on the My Photo stream:
Stop using it. When iCloud Photo Library and My Photo Library are enabled, all recent photos are added to the My Photo Stream album on your phone. Your system stores photos for 30 days. It's best to get rid of the feature if you don't sync your pics from your phone to your computer or iPad. You should save any photos you want to keep before doing this, though.
---
6. A note on HDR mode:
Do not keep both photos when you enable High Dynamic Range (HDR) mode. The feature balances the shadows and highlights of your pics to give you the best quality. Why keep lower quality photos on your device alongside those with a higher definition? Turn off the Keep Normal Photo feature and stick with HDR photos. Go to Settings, Photos & Camera and deselect Keep Normal Photo. You'll thank yourself later.
---
7. Clear. Your. Browser's. Cache. This doesn't just apply to your computer.
This one is ingrained in me by this point. Go to Settings, Safari (or another browser) and "Clear History and Website Data" to clear your cache. Your web pages might load a bit slower, but you'll free up the space you need!
---
8. Turn off your automatic app updates!
App updates are constant and they're a wonderful way to drain your battery. Go to your Settings, the iTunes & App Store and turn off Updates. It's best to update apps when you're connected to Wi-Fi anyway––and you can choose when and where!
---
H/T:
CBS
,
Huffington Post